From the concentration camp to the revolution of dignity: The Kyiv collection of artists
Posted In: Hromadske Radio, Literature, Sponsored Projects, Audio/Visual Media, Culture

[Editor's note: The Lviv Book Forum will take place this year from September 13-17. As it has in the past, the Ukrainian Jewish Encounter will host a variety of events, from book presentations to panel discussions.  We present to readers an interview with Diana Klochko that Iryna Slavinska of Hromadske Radio conducted last year for the Encounter's program about a new album and accompanying exhibition devoted to the timeless subject of Kyiv's Jewish artists.]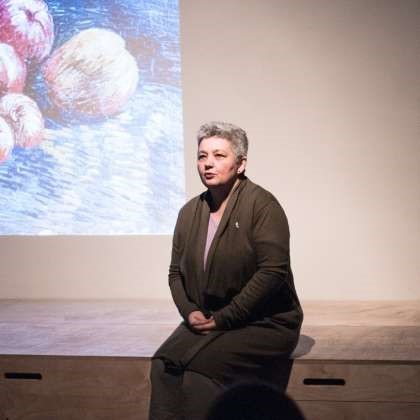 Diana Klochko, the compiler of an album featuring Kyiv Jewish artists, talks about this new book from Dukh i Litera publishers and the forthcoming exhibition.
Our guest on the program Encounters Diana Klochko did not only compile The Kyiv Collection, but also wrote an afterword to it. We discuss the artists presented in the new album to be published by Dukh i Litera in the fall. We also talk about the depiction of a traumatic historical experience reflected through the mirror of fine arts, and the possibility of weaving together all the colorful national threads into the fabric of Ukrainian art.
A discussion based on materials from this work, entitled "The Repression of Jewish Images in the Monumental Art of the USSR in the Second Half of the Twentieth Century: From Pinzel to Babyn Yar," will take place on the 11th of September during the Publishers Forum in Lviv. The discussants Taras Vozniak and Andrii Pavlyshyn will be moderated by Diana Klochko.
Iryna Slavinska:  This program is dedicated to Ukrainian-Jewish relations with a focus on cultural topics. We discuss common historical experiences, and the mutual influences between the cultures. Diana Klochko is here with me today, and we will talk about the new album soon be issued by Dukh i Litera publishers that is dedicated to a very special page in art. I would like to invite my guest to tell us more about this album.
Diana Klochko:  This album will soon be published and presented to the public at the Centre of Jewish Studies at the Kyiv-Mohyla Academy. It was created taking into consideration the virtual Kyiv collection that is on the website of this Centre, and unites those artists whose works present in some way their path not only with Jewish themes, but also in some certain way their essence, their creation, their history, and their experiences in Ukraine, starting from the second half of the twentieth century. I mean the post-war period and perhaps also some of the Second World War and everything regarding our experience because this album concludes with the works of Alexander Roytburd, and these works are dedicated to the Revolution of Dignity. The album starts with works that were created in Auschwitz, works created on the camp's paper forms. This is a very broad path, a very tragic path, and in choosing these works, I, as the compiler and author of the afterword, tried to maintain a balance of the tragic, the dramatic, and at the same time even some of the joyful grotesquery which I would say is also peculiar to the Jewish character and which as odd as it may seem exists in the visual material.
Iryna Slavinska:  Can we say that the artists who are presented in this album… obviously there is a very broad time frame and therefore a broad historical experience through which they went… can we talk about any common features in this art? Or about the character, or perhaps the common roots of this visual language, about some common sources, perhaps folkloric? Or perhaps from other prominent Jewish artists, such as Marc Chagall, who is really very cosmopolitan yet he reflects the world of the shtetl and tiny Vitebsk from Belarus is visible.
Diana Klochko:  Yes, you are right and you have referred to the major artist around whose images and creativity many things in Ukraine were grouped and also took place. But this album, as well as the Kyiv collection, which I did not put together, has works with a modern visual discourse, a European modernism so to say. Visual modernism forms the main branch, so to say. Although again, starting with Zinovii Tolkachev, we have here a completely realistic painter, a Soviet artist who was formed in line with the Soviet tradition, a tradition of academic painting, but even he had a certain expressionism, for which he suffered. He really suffered in a moral sense as a person who was crossed off the list, so to say, out of the artistic process. The same applies to other artists in the 1960s and 1970s. In those difficult years Jewish images were not tolerated that much in the Union of Artists, and they did not appear that often in exhibitions, and therefore they were in the studios, in some private shows in apartments… Therefore, all these works tend to reflect the modern European practice, the avant-garde as well.
Iryna Slavinska:  If we talk about the artists presented here, those who worked during the Soviet period, and we recall the stories of forbidden Jewish motifs, can we say that their works were dissident works? Was their artistic path a dissident path? How close were these paths to each other?
Diana Klochko:  I would not say that this was in some way an active rejection of everything Soviet. It may be odd, but these artists were not protestors. I would say that their works did not have any big and bold protest. Many of them were members of the Union of Artists, and it was their tragedy that on one hand they were normalized within the canons of the art of the time, and on the other hand had their unnoticed life. Not that it was banned, but it was something like a life behind the scenes. They found methods to be there, and there. They were people who did not rush to the parapets, they remained artistic personalities who were very professional in terms of craft, for example, and at the same time they protected some very private, let's say national, but not ethnic, specificity. This is also very important because there were no ethnic points there at all.
Iryna Slavinska:  Continuing this topic, I have to ask you how do the works and artists that were selected fit within the context of a Ukrainian visual range? I mean Ukrainian art in the broadest concept of this word, in terms of identification, geographic location, etc.
Diana Klochko:  This is a very interesting topic because again, in what way can the art of Olga Rapai-Markish be called Jewish or Ukrainian if she herself said that she is against any national connections? She herself declared that she was influenced a lot by Ukrainian folk art. She never denied her Jewish identity, but always said that her ceramics and sculpture are beyond the boundaries of some limited space. Yes, it happens. I was lucky to talk to her about that. This happened in the 2000s, and she was a mature woman who could articulate everything quite well. She explained to me, based on her works, how she tried to incorporate the Markish, and from a small village in the Kharkiv region she absorbed Ukrainian ways and, for example, Ukrainian ceramics. This is very interesting. These technologies of saving yourself are not described, and at the same time some relatively distant things are synthesized. I see that most often in her work. Although I must say that there are other artists represented in the album who, for example, followed the path of creating a specific Jewish myth of Kyiv. This is also very interesting. This urban space that cannot be fully called Jewish, because it is not such a shtetl in the classic understanding of the term, but there is a peculiar relation to this in how these streets live, especially in Podil.
Iryna Slavinska:  I just wanted to ask about this. The previous program of Encounters was dedicated to Jewish Kyiv. What locations appear in the works of those artists who appeal to this myth, to the creation of Jewish Kyiv?
Diana Klochko:  There is quite a big collection of works by Lyuba Rapoport. She is a lively and creative person these days who is actively creating and exhibiting. When I saw her works on Kyiv, I was surprised that many of these images remain lodged in my memory even though they no longer exist. For example, the Voznesenskyi Descent that previously was called Smirnov-Lastochkin, or Olehivska Street. They no longer exist, but I remember them perfectly well. The same is in Oleksa Zakharchuk's art. He is a unique master of painting and drawing. His works contain some sketches of Podil, the Zhytniy market from before the 50s, 60s, and 70s, and a Lviv Square that we no longer see. It has been somehow erased from the city map, and even the Mykhailivska Square in these paintings is fixated in such a way that when you look at them, some layers of memory start emerging.
Iryna Slavinska:  Your afterword has a very nice title: "The Choir That Resounds For Half a Century." The word "choir" and the verb "resounds" appeal to certain audio effects even though we are talking about visual works, about painting and graphics. What are these metaphors?
Diana Klochko:  This name came to me after I had already written the text. This often happens. The metaphor arrives when the body of the text is already known. I have to talk about Pavlo Fishel, who designed this book. The images he created for making this solid, very interesting and unexpected design showed me some voices that he also embodied as he knew so many people personally and they live on in his memory, like in the memory of a painter who studied a lot from many people. The book has another small aspect. We can't forget that a lot of Kyiv artists of the 60s, 70s, and even the 80s, gathered around the Art Institute and the workshops of Serhii Hryhoriev in particular. Because I also studied in that institute, but much later, I remember how this institute—now it is an academy—sounds. The voices of the painters that resound there. There is some special echo there, and it has, of course, Narbut and Krychevsky, who were the founders of the Academy. A lot of these people came out of this studio, and their voices somehow continue to resound, plus all their works are in the Academy's museums. We need to understand that The Kyiv Collection is multilayered. I thought that painting as such also has a wave. Any painting is a wave, color is a wave, sound is also a wave. And this layering of the waves, this metaphor of the great Art Institute, the Academy, this also seemed very surprising to me. There is one more nuance. In the album there are works of artists who were not raised in Kyiv, but who grew up and worked, for example, in Odessa or in Mukachevo, and then, for example, moved from Chernivtsi to Israel, or Paris. And this is also very interesting. Here they also continue to resound and these individual, small parties who grew up here continue as well to echo somehow a bit further away. We tried to include these parties because some voices are tragic, some voices are meditative, and some are women's voices. There are many women's voices and this is also very interesting. Right? This art has a very feminine background, and maybe this is not a background, so this is really my choir.
Iryna Slavinska: And you can hear this choir on Hromadske Radio. I would like to remind you that you are listening to the program Encounters. Iryna Slavinska is working in the studio. Today's guest is Diana Klochko, a culture expert and compiler of the book The Kyiv Collection. This book will be soon published by Dukh i Litera, and there will most likely be presentations in Kyiv and Lviv during the Publishers Forum. We continue our talk about this book, the themes around it, and where this metaphor of the echo came from. Taking into consideration that The Kyiv Collection presents a number of generations of artists of all ages, I certainly want to ask about the complete lineage of this work. We were talking about migratory motives that may have a background in old Jewish visual arts, which also has its own history, but this is not the topic of our discussion today. If we draw a line between the first works of the second half of the century that are in this book, those that obviously involve the story of the Holocaust, and the works which close this book, obviously the works of Alexander Roytburd and Matviy Weisberg, are there stories that are told again and again between these two points of the spectrum of messages?
Diana Klochko:  Yes, and this message is oddly enough connected to the portrait. The portrait, on one hand, has existed for a long time and is a genre that is generally accepted, is clearly understood, and continues to exist. We cannot imagine that at some point painting portraits of people with Jewish facial features could have been forbidden. But this really was the case. And, for example, there are Volodymyr Melnychenko's works, who made portraits and made such huge ceramic works of Mikhoels, Zuskin, and those who were executed in the late 40s. And in this book The Kyiv Collection, in these works, in this thread which has been made, this portraiture has a lot of fantasy, a lot of the grotesque, and a sarcastic relation to national features, while at the same time there is a lot of love, a very specific and tender love, as in Mykhailo Vainshtein, of whom we know very little, and this is one of the very powerful artists of the 60s. Or Yakiv Rashba's works. This is a collection of sculptures, which generally was hidden, and it does not even have any description. Because he was a Soviet sculptor who made a project for Babyn Yar, and for himself in his studio he made portraits of the prophets and Jewish heroes on which we look and understand: this is it! But they were made just privately for him. These attempts to keep these lines, these ethnic features, to capture them in different portraits, are not necessarily realistic portraits. They are very different. This is one of the features of maintaining the passion for external appearances. For example, the works of Joseph Ostrowski from Odessa or Luisa Chereshkevych are completely fantasised, but nonetheless these singularly special facial features remain there.
Iryna Slavinska:  In the program Encounters we already talked about the memory of the Holocaust not once and, of course, one of the dimensions of such a memory is visual art—something that allows us to capture the complex historical experience through the creative prism of the artist's imagination.
Diana Klochko:  We tried not to push this moment, but when we talk again about Zinovii Tolkachev's creativity, it cannot be avoided. He is tragic, of course. In the later eras it is also interesting that, for example, in the era of independence, from the 1990s to the beginning of 2000s, when Jewish artists started to open up this cosmos of free interpretation of anything in Jewish history, of whatever motives, of whatever scenes and biblical motifs, there was a transformation. The tragic of the Shoah became the biblical. This is also very interesting. The Holocaust was included in this biblical context, the great biblical context.
Iryna Slavinska:  Is it basically incorporating this experience into a broader mythology?
Diana Klochko:  Yes, this is not mythology with a minus sign, and this is not a mythology with any sign of strain and visual breakage, or an attempt to visually impress or somehow visually hurt the eyes. It is instead an understanding with broader characteristics, particularly in graphics. It is also interesting that in the album we tried to convey sculpture and painting, graphics, and even collage. Pavlo Fishel has works related to the intermediate genres, such as graphics by Lakerman. This a very different kind of art and it is not quite familiar to us.
Iryna Slavinska:  I would like to stress another side of our talk. I mean the public. The readers. The imaginary reader. The ideal reader, so to say. Who is this reader, this person who will browse through the The Kyiv Collection album?
Diana Klochko:  I would like to mention that the album will be part of a major exhibition. At the end of September there will be a major exhibition that will have many more works that this album contains.
Iryna Slavinska:  By the way, you can announce it here if you have more details.
Diana Klochko:  The details are currently being determined, and I hope that soon the time will come when we can announce when and where it will be, what artists will be presented, how many works, and even the concept of the exhibition. The book has its concept, and exhibition has its own concept. As for readers, I tried in my text to have many quotes so that not only my voice is heard. I did not want to be a voice of some supervisor who points her finger and says, "here, look here," and point your attention to this topic. There are those who already worked with this topic and referenced these artists, and provided some other definitions. There are, for example, notes and quotes so that people could read more about these artists thanks to my text. Twenty-three artists—that is a lot of artists… These are not all the artists that could have been part of it, and maybe the exhibition will present a few more artists. We will see. My readers are thus most likely those people who will attend the exhibition, who will want to have some memory about it, will want to know more, and will want to look at this topic not only from the point of view of the opening. Many people worked on this, so that these names would appear, and that it would be possible to collect everything. But let us look at this topic so that there are national features, national schools, and national ways in modern Ukrainian art. This is very complex topic. Perhaps in this text I did not think this over, but the national will grow and continue to live in a multinational Ukraine, because the modern Ukrainian space for me is multinational. It consists of many threads. It is not one thread. The Jewish thread, which is a separate strand, is a part of our non-conflicting national world, and this is very interesting. We have a non-conflicting situation in today's Ukrainian world, but then it is "non-conflicting" in quotes because we know some things can explode. For instance, I am sometimes frightened to name these things so as not to conjure them up, but they came from the conflicts that existed during the Soviet period, in the USSR. National conflicts have previously existed and now somehow they are becoming something else. It is also very interesting to look at this experience, to see how common and even governmental anti-Semitism in Ukraine has become almost very marginalized, and how a number of artists, including Jewish artists, can work freely and with national motifs, with the national mythology. This also fits into contemporary Ukraine.
Iryna Slavinska:  Here we touch upon a wider topic—the disentanglement of certain threads of this multinational strand. I think I would like to talk about this in conclusion. Do you feel Ukraine is ready for this topic, to remember its multi-nationalism and the fact that those threads comprise the strands of a political nation? If we narrow this focus down to art, is the history of Ukrainian art ready to acknowledge that it is also the history of Ukrainian-Jewish art, Ukrainian-Armenian art, Ukrainian-Crimean Tatar art, Ukrainian-Russian art, and many more?
Diana Klochko:  The point is that art historians are ready. They have done a lot to present this palette, so that all these threads in this range are discussed and assembled. There is another question about whether someone should hear about this because that concept of a multi-ethnic Ukrainian art is in contradiction with the fact that in the twentieth century art experts spoke about Ukrainian art as the art of Ukrainians. You see? I mean we have a heritage, again narrowing the term Ukrainian art to the art of Ukrainians, not the art of the peoples of Ukraine. In the Soviet Union again only the art of peoples of the Soviet Union could exist. One has to put in some effort in order to understand that Ukraine had many creators of these national narratives and national myths. Again, other questions: where, how, why, with who, and how should they be transmitted in a contemporary Ukraine?
Iryna Slavinska:  All good questions for further consideration as this program of Encounters comes to an end. I would like to remind you that our guest on today's program was Diana Klochko—an art expert and the compiler of the book The Kyiv Collection. This is an album of visual works and texts that is dedicated to twenty-three Ukrainian-Jewish artists. A very broad spectrum of time and several generations of artists are presented there. I hope the fall season, which always brings an explosion of new Ukrainian books, will not distract you and I would like to bring your attention to this book in particular, especially if you are interested in the history of Ukrainian art. I would like to remind you that you have been listening to the program Encounters. This program is created with the support of the Canadian philanthropic fund Ukrainian Jewish Encounter. Iryna Slavinska was in the studio. You are listening to Hromadske Radio. Our slogan is: "Listen. Think!"
Originally appeared in Ukrainian (podcast) here.

Translated by Olesya Kravchuk, journalist, interpreter

Additional translation and editing by Peter Bejger

Posted On: September 13th, 2017