80 years since Babyn Yar: Ukrainian-Jewish shared past in literature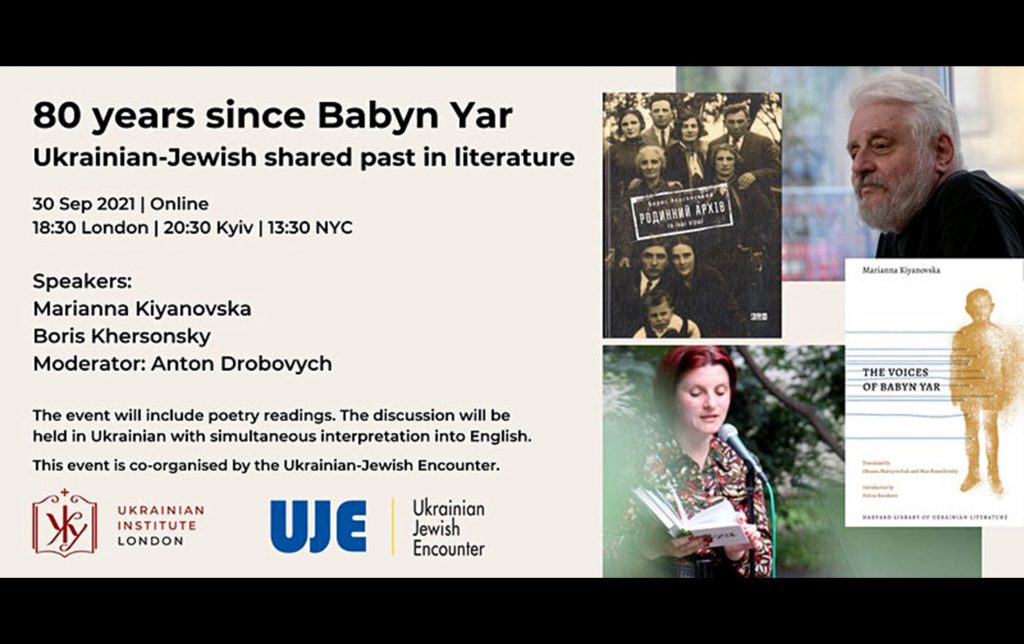 Join us to commemorate the 80th anniversary of the Babyn Yar massacre and to explore literary representations of the Ukrainian-Jewish past
Event date:
30 September 2021 to 30 September 2021
Event location:
On-line
18:30 London/20:30 Kyiv/13:30 New York City
About this event
Together with two leading Ukrainian poets, Marianna Kiyanovska and Borys Khersonskyi, and the Head of the Ukrainian Institute of National Memory, Anton Drobovych, we will talk about literary representations of Babyn Yar, the site where over 100,000 people were murdered in 1941, including over 33,000 Kyiv Jews, and the memory of the Shoah in Ukraine today. The speakers will discuss cultural representations of the shared past of Jews and Ukrainians, and what it means for poets to bear witness and give voice to those who have been silenced. The event will include poetry readings (in English and Ukrainian).
The discussion will be held in Ukrainian with simultaneous interpretation into English.
This event is co-organised by the Ukrainian-Jewish Encounter.
Український інститут у Лондоні та "Українсько-єврейська зустріч" запрошують вшанувати 80 річницю трагедії у Бабиному Яру та обговорити літературні репрезентації спільної українсько-єврейської історії.
Провідні українські поети, Маріанна Кіяновська та Борис Херсонський та голова Українського інституту національної пам'яті, Антон Дробович, обговорять літературні репрезентації Бабиного Яру, місця, де у 1941 році було вбито понад 100,000 людей, у тому числі понад 33,000 київських євреїв, та пам'ять про Голокост в Україні сьогодні. У дискусії також йтиметься про культурні уявлення про спільне минуле євреїв та українців, що означає для поетів стати свідками історії та як давати голос тим, у кого його відібрано. Захід включатиме поетичні читання (англійською та українською мовами). Дискусія відбудеться українською мовою з синхронним перекладом на англійську.
Співорганізатори заходу - "Українсько-єврейська зустріч".
Speakers
Marianna Kiyanovska
Marianna Kiyanovska was born in Zhovkva, Lviv oblast. She is a poet, writer, translator, and literary scholar. Kiyanovska is the author of nine books of poetry and one novel. In 2020, she was awarded the Shevchenko National Prize for her collection of poetry Babyn Yar: In Voices (2017). She is a recipient of prestigious awards, including the Joseph Conrad Korzeniowski Literary Prize (2011) and the Kyiv Laurels Literary Festival Prize (2011). In 2014, Forbes Ukraine named her one of the top ten most influential writers working in Ukraine today. Kiyanovska is a member of PEN Ukraine. Her works have been translated into English, Belarusian, Polish, Serbian and Russian.
Маріанна Кіяновська народилася у м. Жовква, Львівської області. Українська поетка, есеїстка, перекладачка та літературознавиця. Лауреатка Шевченківської премії 2020 року за збірку поезій "Бабин яр. Голосами" (2917). Лауреатка престижних нагород, зокрема Літературної премії імені Джозефа Конрада-Коженьовського (2011) та премії міжнародного фестивалю поезії «Київські Лаври» (2011). У 2014 році Forbes Україна включив її до десятки найвпливовіших письменників/ць, які працюють сьогодні в Україні. Членкиня Українського ПЕН. Твори Кіяновської перекладено англійською, білоруською, польською, сербською та російською мовами.
Boris Khrersonsky
Boris Khrersonsky was born in Chernivtsi. He studied medicine in Ivano-Frankivsk and Odesa and worked as a psychologist, psychiatrist and journalist in Odesa. In the Soviet times, Khersonsky was part of the Samvydav/Samizdat movement, which disseminated alternative, nonconformist literature through unofficial channels. In 2017, he became rector of the Kyiv Institute of Modern Psychology and Psychotherapy. He is the author of twenty-two collections of poetry and essays in Russian, and more recently, in Ukrainian.
He received the Yuri Shevelyov Prize for his book An Open Diary (2015) and the Voloshyn Kirienko award 'For a Significant Contribution to the Development of Ukrainian Literature' (2019). Khersonsky was the poet laureate of the Kyiv Laurels Poetry Festival (2008), the recipient of the Brodsky Stipend (2008), and the Jury Special Prize at the Literaris Festival for East European Literature (2010). His poems and essays have been translated into English, German, French, Italian, Dutch and other languages.
Борис Хрерсонський народився у Чернівцях. Закінчив Одеський медичний інститут, працював психологом, психіатром та журналістом в Одесі. У радянські часи Херсонський був частиною "самвидаву". З 2017 року займає посаду ректора Київського інституту сучасної психології та психотерапії. Автор двадцяти двох збірок поезій та есеїв російською, а останнім часом і українською мовами.
Серед численних нагород - спеціальна премія ім. Ю. Шевельова за книжку "Відкритий щоденник" (2015), та премія ім. Волошина Кірієнка "За вагомий внесок в розвиток української літератури" (2019). Лауреат премії міжнародного фестивалю поезії "Київські Лаври" (2008), та премії Йосипа Бродського (2008). Нагороджений спеціальною премією журі на фестивалі літератури "Східноєвропейська література" (2010). Його вірші та есеї перекладено англійською, німецькою, французькою, італійською, нідерландською та іншими мовами.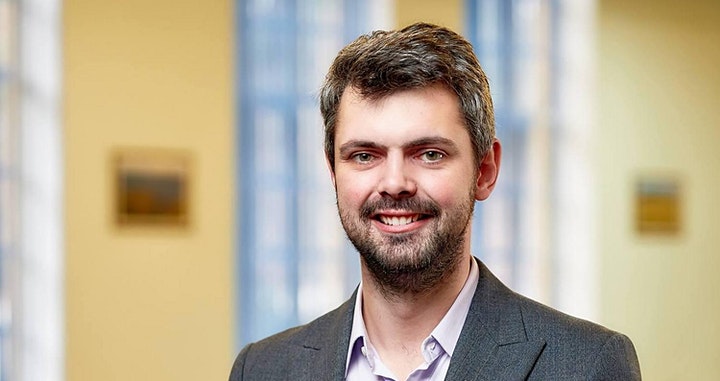 Anton Drobovych
Anton Drobovych is the Head of the Ukrainian Institute of National Memory, responsible for formulating state policies of remembrance, developing commemorative practices and leading research. He has had a career spanning academia, journalism, policy-making and museum development in Ukraine. He was an advisor to the Minister of Education in Ukraine and also chaired the department of museum planning at Mystetskyi Arsenal, one of Ukraine's leading museums and curating platforms. Prior to his appointment as the Head of the UINP, Drobovych curated educational programs at the Babyn Yar Holocaust Memorial Center.
Антон Дробович — голова Українського інституту національної пам'яті, інституції відповідальної за формулювання державної політики пам'яті, розвиток комеморативних практик та дослідження у сфері національної пам'яті. Його кар'єра охоплює сфери науки, журналістики, політики та розвитку музеїв в Україні. Дробович був радником Міністра освіти України, а також очолював службу стратегії музейного планування та розвитку національного культурно-мистецького та музейного комплексу "Мистецький Арсенал", одного з провідних музеїв та кураторських платформ України. До призначення Головою УІНП, Дробович працював керівником освітніх програм Меморіального центру Голокосту "Бабин Яр".
For more information and tickets/registration click here.