KlezKanada 2018 Festival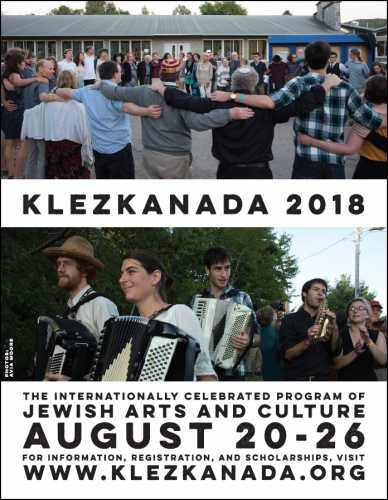 The work of Ukrainian-Jewish ethnomusicologist Moyshe Beregovksi (1892-1961) is featured in this year's UJE-supported KlezKanada festival. Beregovksi was among the first to indicate similarities in melody and means of expression in Ukrainian and Jewish folk music.
The world-renowned klezmer violinist Alicia Svigals will honour his work by performing a concert of Jewish and Ukrainian music entitled "Beregovski Suite". In addition, there will be several workshops on Ukrainian and Jewish instrumental music.
A panel discussion featuring some of the world's leading experts on Beregovski is also on the program. A video report on the concert and the panel will be produced for wider dissemination by both KlezKanada and the Ukrainian Jewish Encounter (UJE).
General Registration for KlezKanada's Summer Retreat Closes on July 1st.
For more information please visit KlezKanada's website.