Meridian Czernowitz 2022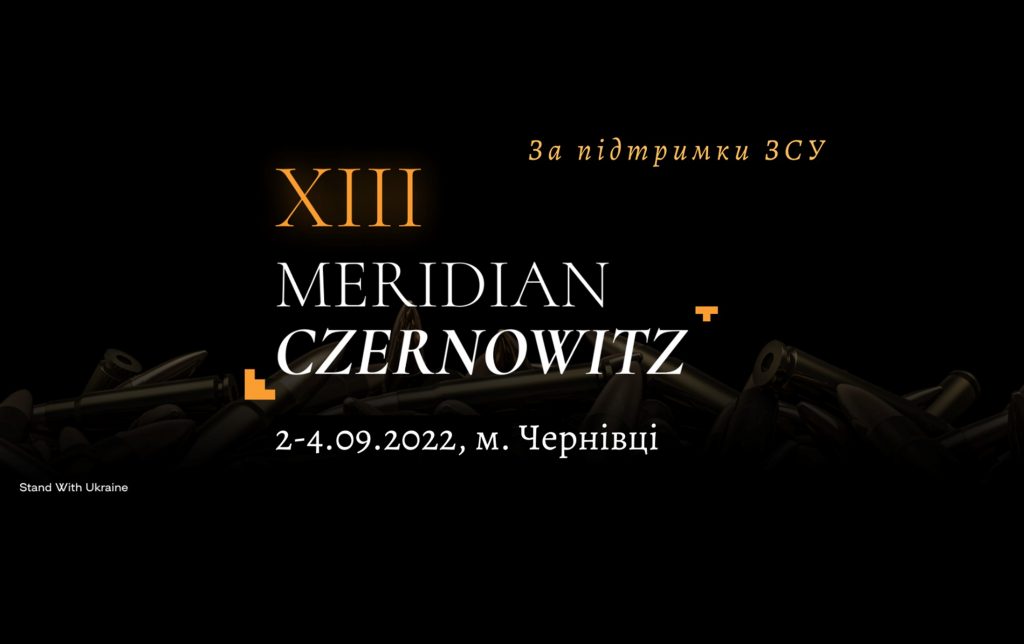 Ukrainian Jewish Encounter (UJE) is a long-standing sponsor of the Meridian Czernowitz International Poetry Festival, which will take place this year on 2–4 September 2022.
This year's festival will be held in person and will be broadcast on Meridian Czernowitz's official Facebook page and YouTube channel.
As in past years, the program will include presentations dedicated to the Ukrainian-Jewish literary discourse. Ukrainian literary translator Yuliya Lyubka will moderate a panel dedicated to the poetry of Israeli poets Shachar Mario Mordechai and Eran Tzelgov; Soviet dissident Josef Zissels, head of VAAD (the Association of Jewish Organizations and Communities of Ukraine), will discuss Ukraine's ethnic communities against the backdrop of Russia's aggression against Ukraine; and Ihor Pomarantsev, Meridian co-founder, journalist, poet, will take part in a discussion about the war, moderated by Elizaveta Tsarehradska, the new host of Hromadske Radio's Zustrichi program, which is supported by UJE.
Individual events in the Ukrainian-Jewish literary dialogue are listed below. Meridian Czernowitz's full program is available in Ukrainian here.  All sessions are listed in Kyiv/Jerusalem times.
September 3, Saturday
12:00–12:40
Dialogues about War: Ihor Pomerantsev
Participant: Ihor Pomerantsev, moderated by Elizaveta Tsaregradska
Location: Street Stage (36 Kobylianska Street)
UA/HE
September 4, Sunday
11:00–12:30
Josef Zissels: National communities of Ukraine against the background of Russian aggression
Participant: Josef Zissels
Location: "Media" hall of the Central Magnat Cinema hotel, 1st floor, (36 Kobylianska Street)
UA
14:30–15:30
Poetry readings: Israel
Participants: Shachar Mario Mordechai, Eran Tzelgov, moderation and translation Yulia Lyubka
Location: Celan Literary Center (51 Kobylyanska St.)
UA/HE