UJE to participate in the 2023 London Book Fair, including 18 April discussion
Ukrainian Jewish Encounter will participate in the 2023 London Book Fair, to be held at Olympia London between 18-20 April 2023. The organization's recent publications and educational materials will be displayed at Stand 2B01 (shared with the Ukrainian Book Institute) for the duration of the fair.
In addition, we will host an important panel discussion on 18 April from 16:00-16:45 at the English PEN Literary Salon related to Russia's criminal war against Ukraine. Details are below.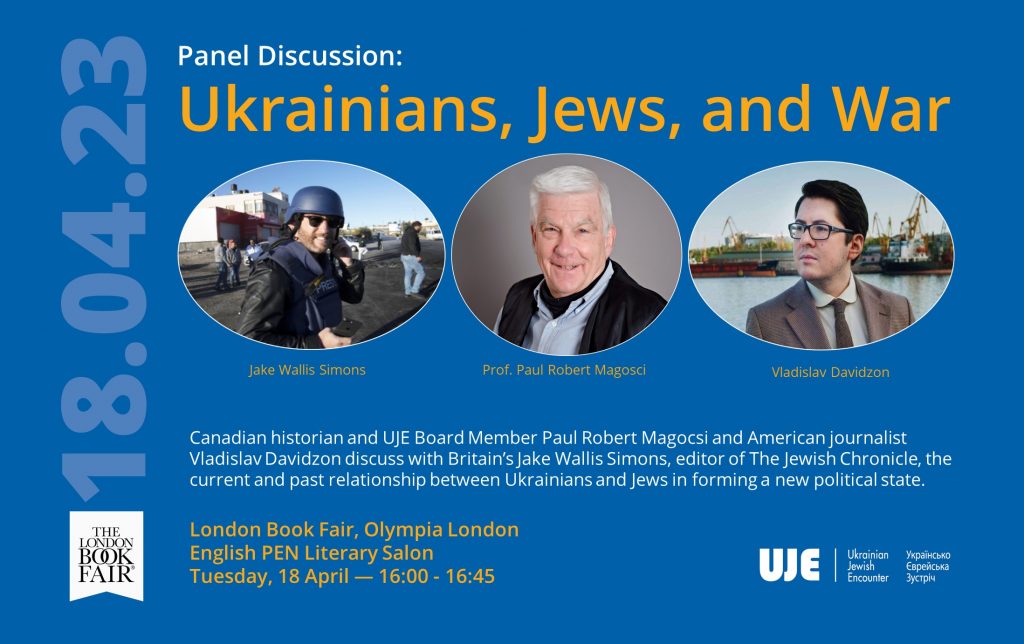 Russia's illegal invasion of Ukraine on 24 February 2022 shocked the world. Russian leader Vladimir Putin used the 'de-Nazification' of the country as the war's excuse, an absurdity considering Volodymyr Zelensky, a Jew, won the Ukrainian presidency in a landslide victory in 2019. In the year since the war began, Ukrainians, Jews, and other nationalities have fought together on the battlefield and in the global civic space, resoundingly refuting Putin's mythmaking. Canadian historian and UJE Board Member Paul Robert Magocsi and American journalist Vladislav Davidzon discuss with Britain's Jake Wallis Simons, editor of The Jewish Chronicle, the current and past relationship between Ukrainians and Jews in forming a new political state.