Exhibit "A Journey Through the Ukrainian-Jewish Encounter: From Antiquity to 1939" travels to Uman
Posted In: UJE Initiatives, A Journey through the Ukrainian-Jewish Encounter, Exhibits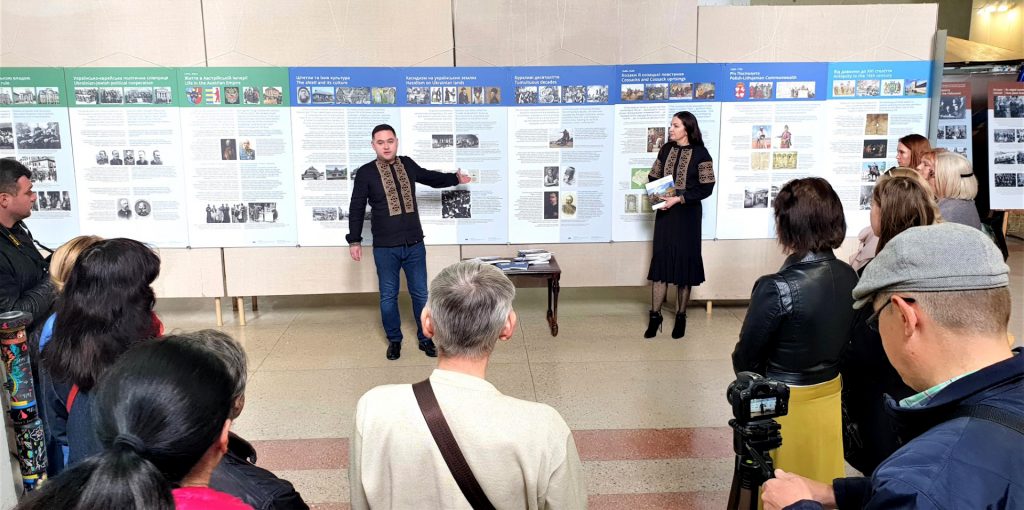 One of the major projects of the Ukrainian-Jewish Encounter (UJE), a Canadian charitable non-profit organization, is the exhibit A Journey Through the Ukrainian-Jewish Encounter: From Antiquity to 1939. It explores the multifaceted relations between Ukrainians and Jews. These two peoples have lived side by side for more than a millennium on the lands that now make up Ukraine. Their relations have evolved over the centuries; Ukrainians and Jews have experience of coexisting under a succession of political regimes and interacting with other peoples. It is a story of extended periods of peaceful coexistence and cultural exchange, as well as times of crisis.
The UJE exhibit program, spearheaded and curated by UJE Co-Director Alti Rodal, has been updated and expanded since it successfully toured four major Canadian cities in 2015.
This time, the exhibit traveled to Uman and was hosted by the centrally located Uman Art Museum (2 Andriya Kyzyla Str.) from 25 April to 12 May 2023, attracting several thousand locals and visitors.
The opening ceremony was launched by Viktoria Savchuk, director of the museum, who welcomed all those present and emphasized the importance of cooperation between museum institutions in Ukraine and international educational organizations. The event was attended by the museum's staff, representatives of local authorities, journalists, Uman University students, members of the local Jewish community, and people interested in Ukrainian-Jewish history and culture.
Vladyslav Hrynevych, Jr., regional manager of UJE, told the audience about the motivation behind the exhibit, how and when it was created, where it had been shown, and where it was scheduled to travel next. He also answered questions from the audience.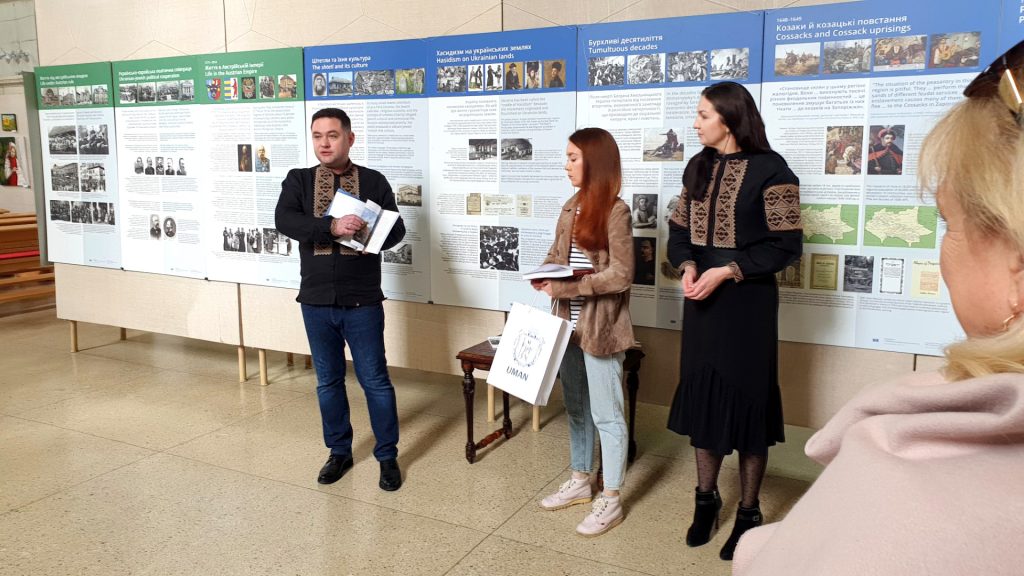 The exhibit was previously shown in the Lviv Historical Museum from 16 May to 17 July 2019, in the Metropolitan Andrey Sheptytsky Center at the Ukrainian Catholic University from 18 September to 18 October 2019, at the Zhovkva Castle from 12 December 2019 to 31 May 2020, and at Kontraktova Square in Kyiv on 23-25 May 2020.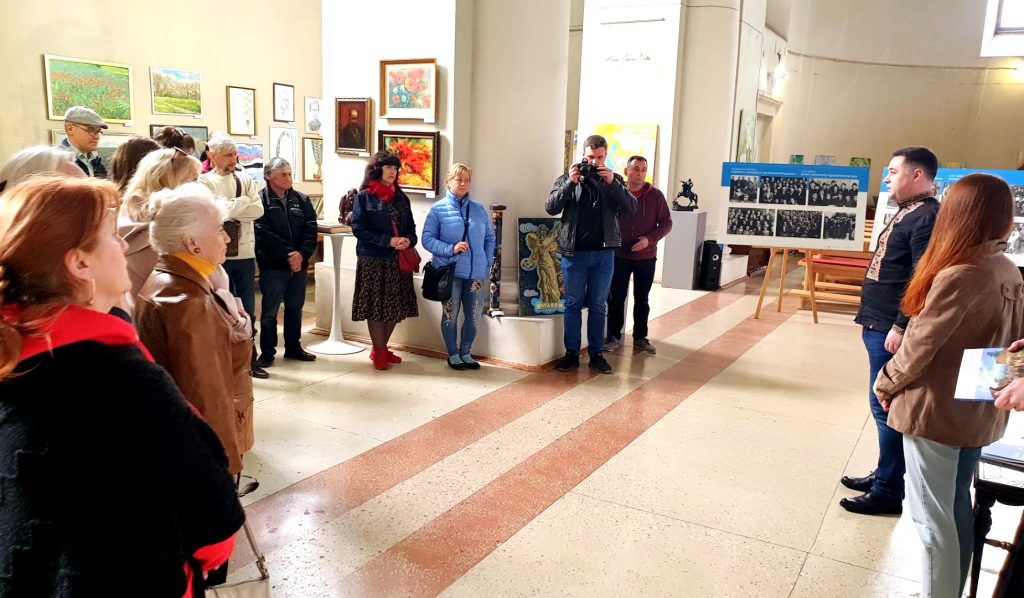 All those who attended the opening ceremony in the Uman Art Museum received gifts — small sets of books, including the vibrant and highly informative catalog A Journey Through the Ukrainian-Jewish Encounter: From Antiquity to 1914. This lavishly illustrated 168-page edition was designed to present a coherent narrative and explore the shared historical experience of the two peoples in all its diversity and complexity — both in times of crisis and episodic violence and during extended periods of normal coexistence and multifaceted intercultural interaction.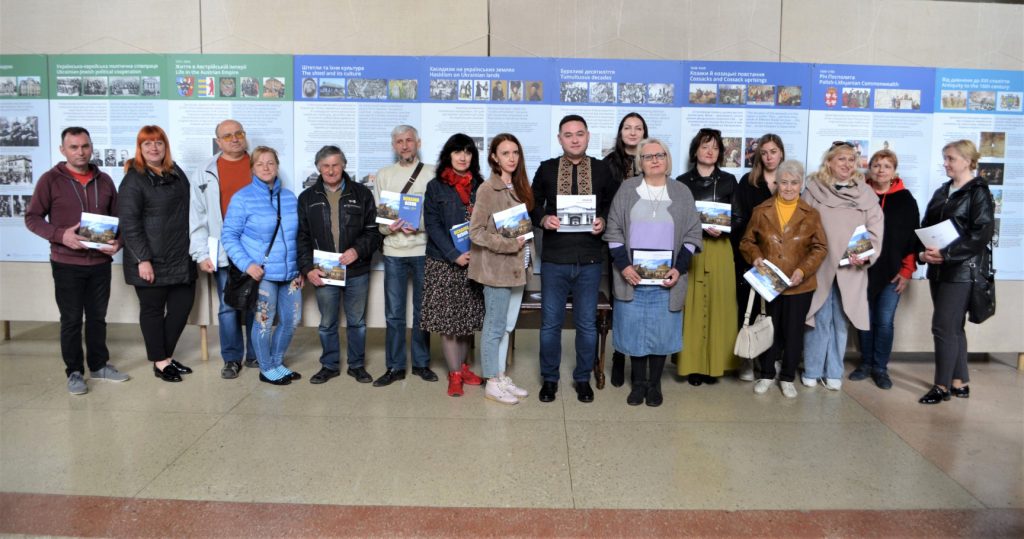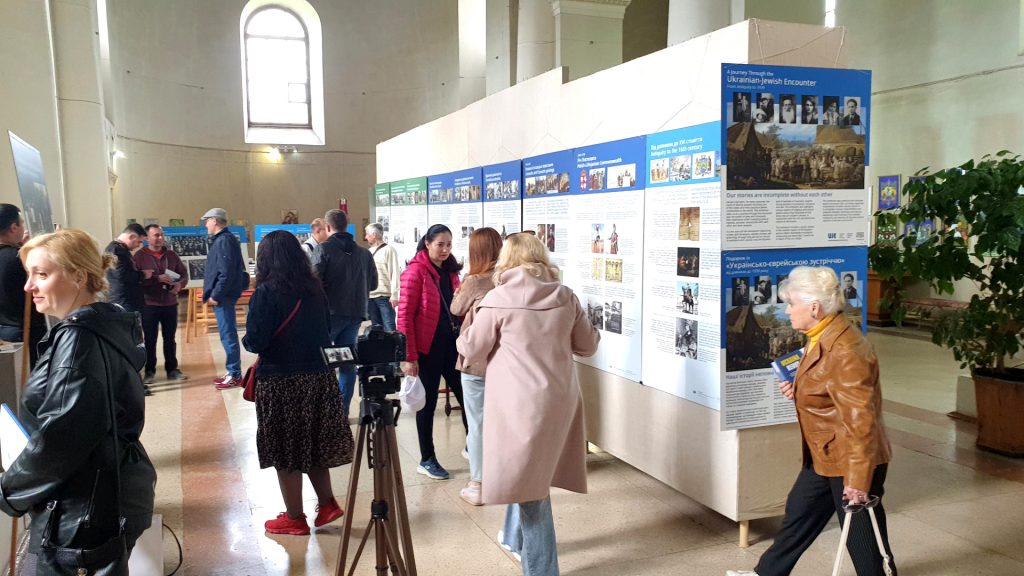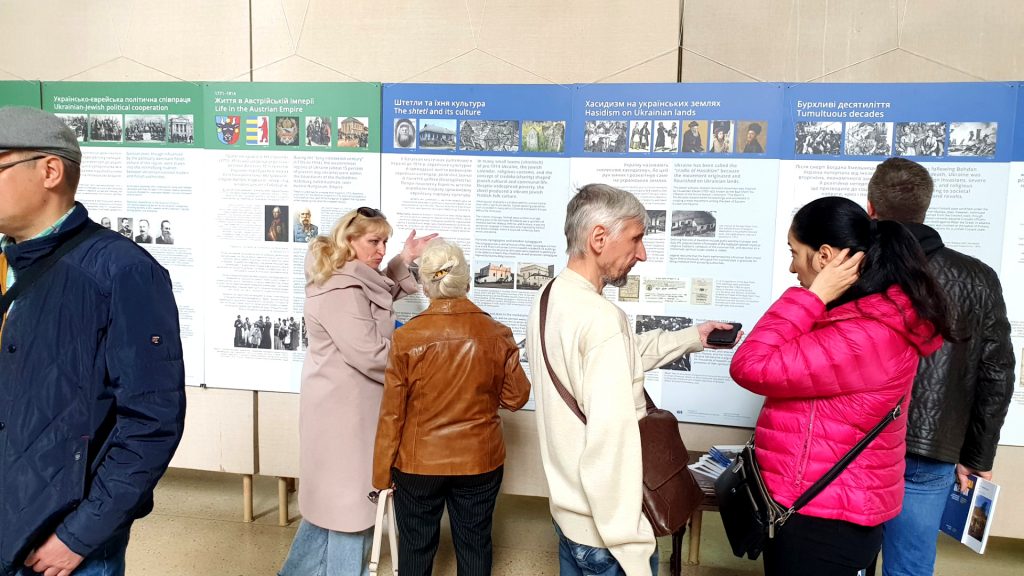 Jewish presence on Ukrainian lands dates back to ancient times. By the 15th century, Yiddish-speaking Jews from Central European lands started migrating eastwards in large numbers, forming communities alongside local Ukrainian Christians and other population groups. Presented in an accessible form and addressing a broad audience, this catalog highlights the many historical, political, religious, cultural, and literary influences that have shaped the common life of Ukrainians and Jews and their interaction throughout the centuries.
Some 300 copies of the catalog A Journey Through the Ukrainian-Jewish Encounter: From Antiquity to 1914 were distributed while the exhibit was open in the Uman Art Museum from 25 April to 12 May 2023.
Vladyslav Hrynevych, Jr.,
Regional Manager,
UJE Ukraine.