Forum Daily: Kyiv Mayor Vitali Klitschko: Ukraine Can Learn A Lot From Israel
Posted In: Commentary, Commentary and Analysis

The Kyiv city leader and one of the most prominent politicians in today's Ukraine told Forum Daily why he wants to go back to Jerusalem with his family and children.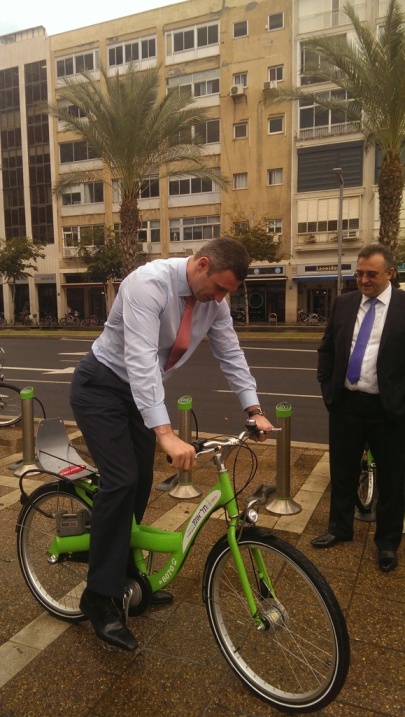 Kyiv mayor Vitali Klitschko and Ukraine's ambassador to Israel Hennadiy Nadolenko in Tel Aviv on Nov. 3, 2014. Photo by Natalya Zhubenko, courtesy of Forum Daily.
- Currently there is a lot of discussion about how the Israeli experience should be used by Ukraine. What do you think Ukraine can learn from Israel?
– We can learn a lot. We have a lot in common and a lot of parallels can be drawn. Kyiv, as well as Jerusalem, is a historic cultural and religious center. At the moment, unfortunately, Ukraine is at war and Ukrainians desire most of all peace and stability. That is why the question of security is more important now than ever. We know how effectively Israeli security systems work. Therefore, it would be nice to benefit from Israeli experience and achievements. This also applies to the development of infrastructure and medicine. There are other fields in which we can use Israel's positive experience as well.
– Are there any Israeli investors who are negotiating about investments to Kyiv?
– I just had lunch with the head of one of the biggest and most successful IT companies in Israel. I also had a meeting with a person who had a successful career in real estate investment. We are working in this direction–with people who can provide good examples, advice, or who can personally invest.
– What in your view would be the best coalition in the new Parliament?
– There are pro-European forces now in Parliament who envision the development of Ukraine within the larger European family. I am sure that all the democratic forces, which a few months ago were standing on the same side of the barricade on Maidan, will be able to put aside their political and personal ambitions and will unite for the sake of reforms in Ukraine.
– Yesterday you were in Jerusalem's "Yad Vashem" Holocaust Museum. What did you feel there?
– I am extremely impressed by the historic places I visited in Jerusalem. My only wish now is to return with my family and children and visit these holy places again.
Today, on November 3, Vitali Klitschko explored Tel Aviv's urban bike rental system, which makes this city one of the most bicycle friendly in the world. Despite the strong rain, Klitschko tested the bike on a special path along the Tel Aviv promenade. In the evening, the mayor of Kyiv hosted a private dinner for prominent Israeli businessmen, whose names were not disclosed.
Interestingly, a few hours before Vitali Klitschko went to explore the tourist attractions of Old Jaffa on the southern outskirts of Tel Aviv, a real tornado with storm winds and icy hail swept into this and other areas of the metropolis. The cloud that came from the Mediterranean Sea covered the city that is hated by Arabs.
Author: Shimon Briman, Israel
Originally appeared in: http://www.forumdaily.com/mer-kieva-vitalij-klichko-ukraina-mozhet-mnogomu-nauchitsya-u-izrailya/
Translated by: Olesya Kravchuk, journalist, interpreter