Jewish everyday life in warring Ukraine
Posted In: Jews on Ukrainian Lands, History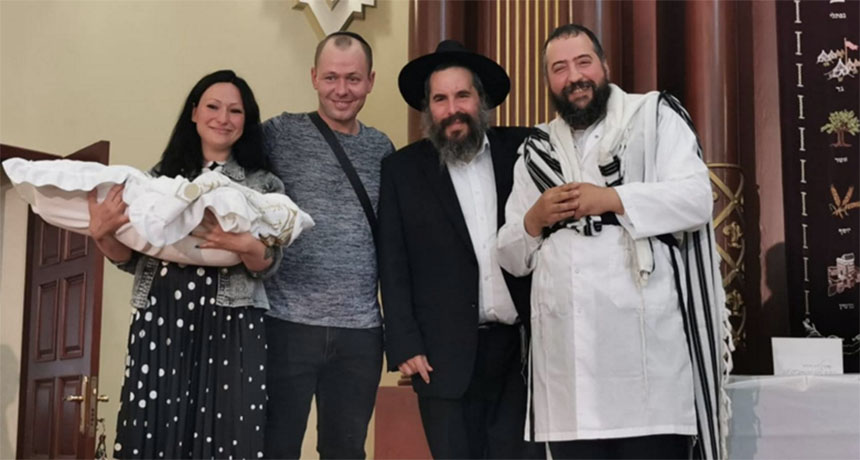 At the Kharkiv Choral Synagogue, 35 kilometers from the border with aggressive barbarians: today another newborn Jew entered into a union with the Almighty.
On the eve of the mourning day of fasting on the 17th of Tammuz, when the walls of Jerusalem were breached, a boy in Kharkiv was named David.
In the photo: The happy parents and Kharkiv's Rabbi-hero Moishe Moskovych, who has not left his community and city even under Russian shelling.
The Lubavitch Rebbe sent him to Kharkiv in 1990; Reb Moisha has been working in the city for 34 years.
Mohel became Rabbi Mendel Cohen (right), whose synagogue in Mariupol was burned by Putin's "denazifiers." Those who remained alive in Mariupol's Jewish community miraculously survived — some in Israel, some in the European Union.
As a historian, I will also note that exactly 100 years ago, in the summer of 1923, the Bolsheviks — on the initiative of the Jewish persecutors of their people from the Communist Party's "Jewish section" — closed the Kharkiv Choral Synagogue.
They took all the silver Judaic objects, took away and dumped in the basements of the Historical Museum the Torah scrolls, which were later cut into leather for the drums of the Philharmonic Orchestra, knocked down the plaques with the names of the donors who built this masterpiece of architecture in 1913.
All those who closed the Kharkiv Synagogue in 1923 were shot as "enemies of the people" in 1937.
One hundred years have passed, and the Kharkiv Synagogue is once again holding a brit milah (circumcision ceremony).
The Bolsheviks didn't stop it — neither will Putin's war criminals.
Text: Shimon Briman (Israel).