Just in Case
Posted In: Agnon Literary Centre, Literature, Sponsored Projects, Culture, Other Programs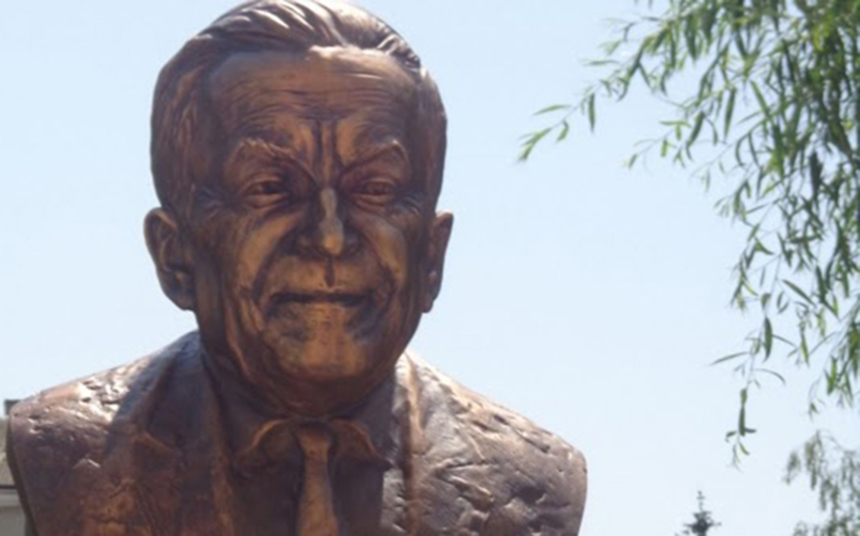 In Buchach, the roosters wake up at four o'clock in the morning. Perhaps the voices of the Buchach roosters have not changed since [Shem'uel Yosef] Agnon lived in the city. And now, during my stay in Buchach, I hear sounds like the ones that roused the city in his time. For some reason, these roosters are like the voice of a special trust accorded to me, a stranger, who will linger in the city of homecomings for a few days, because Galicia, particularly Buchach, are places that people left but to which they returned. Here is a local fisherman, who has wandered into the middle of the Strypa, because the river is shallow. Here are homeless dogs, with plastic buttons in their ears, racing through the streets. Here the autumn fragrances of grapes, plums, and tomatoes are holding onto the doorposts of old shops. Buchach is surrounded by autumn, and just like the Ottomans, it will not let go of it until it is finally overcome.
I have to say that, together with Agnon, who stands now as a monument on the banks of the quiet-flowing, green Strypa, whose current some low-hanging willow branches are trying to contain, we are returning to Galicia, a land that has remained in the pages of his astonishing prose. I will try to assume that this return to that Agnonesque Galicia is connected—at least for me—with a quest for authenticity. What kind of authenticity? You will ask, and I will begin to search for an answer along the crooked little streets of Buchach, the peeling houses with rusty openwork balconies, or even reach back to events of a deeper history, as our writer did when he created mythologized stories about Buchach during the medieval period. Authenticity remains above all in writing, because over time it is difficult to find another authenticity.
In general, Galician Jewish prose is thematically and stylistically diverse, ranging from Chortkiv's Karl Emil Franzos, Buchach's Shmuel Agnon, and Brody's Joseph Roth to Drohobych's Bruno Schultz, and it encompasses writings from the golden age of Jewish communities in Austro-Hungary to the beginning of the Second World War. The majority of the above-mentioned writers tried to slot the traditional life of Jews into the ethnic diversity of Galician towns, showing either the clash between tradition and new challenges, or provincial dullness. Only Shmuel Agnon remained, in most of his texts, an Orthodox Jew for whom inspiration and the impulse to write were derived from Judaism. Agnon was more interested in the world of books. He was fascinated by words that were said and written to him, which can be encountered not only on the street, after eavesdropping on a conversation, but also those that are read from the Torah in the synagogue, the meaning and beauty of which are fortified by the gilding of singing. Perhaps, in order to be closer to the words that he needed, it was with good reason that after Buchach and Berlin, the writer consciously chooses Jerusalem as his place of residence.
However, at the end of his life, something happens to Agnon that happens to everyone: He returns to the city of his childhood, to Buchach. Of course, he returns not physically but mentally, writing a cycle of short stories in which he describes his native city and its historical events. In one of them, entitled "Buchach," Agnon completes his narrative with anticipation and the belief that God will not abandon his scattered people, but will gather all its generations and bring them to Jerusalem. Thus, for him even Buchach is a temporary place in the lengthy journey of the Jews in the direction of Jerusalem. No Galician Jewish writers before or after Agnon believed so sincerely in Divine Providence; no one anticipated it so much, and no one described it that way. Intensified religiosity and allusions to Jewish history and numbers taken from sacred texts constitute the organic Agnon style. And even though the narratives are saturated with depictions of ordinary life, daily worries, and cycles of the Jewish calendar, they are nevertheless illuminated from within by a special light, like a lantern.
Could I have predicted that, in accompanying Agnon's daughter, Emma, by chance around Ternopil in the early 1990s, I would one day be able to fly to Jerusalem and visit the Agnon House and now, during my stay in Buchach, listen to roosters singing? In Jerusalem, I learn that Emma is living in a seniors' residence. Our encounter in Ternopil will be recalled somehow involuntarily, and she will write her address in Jerusalem in my notebook.
This essay was written during the author's literary residency in Buchach, with the support of the Canadian philanthropic fund Ukrainian-Jewish Encounter.
Originally appeared in Ukrainian @zbruc.eu
Translated from the Ukrainian by Marta D. Olynyk.
Edited by Peter Bejger.