Nash Holos: Josef Zissels
Posted In: Nash Holos, Sponsored Projects, Audio/Visual Media, Diverse Voices

Welcome to Ukrainian Jewish Heritage on Nash Holos Ukrainian Roots Radio. I'm Peter Bejger.

He is relentless and outspoken. And he has paid the price. He was arrested twice for his human rights activities and served six years in prison in the Soviet gulag.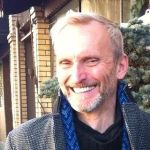 But he emerged from behind prison bars to the world stage. Josef Zissels is now the head of the Association of Jewish Organizations and Communities of Ukraine. He is also Vice President of the World Jewish Congress. He is once again in the political limelight after a recent visit to North America.
The sixty-eight year old Zissels set up Ukraine's first Jewish organization in 1988. He has been a strong and consistent defender of Ukraine's independence and democratic path.
In an interview with the Toronto Star, Zissels discussed the troubles in eastern Ukraine.
He told the Star that it's a war. And Jews are suffering in the same way other Ukrainians are. Many have moved from eastern Ukraine to Kyiv and other western Ukrainian cities to escape the danger.
But Ukraine's Jewish community is largely staying put.
And not only staying put. But also pitching in. Zissels told the Canadian Jewish News that Ukrainian Jews volunteer to help displaced persons. They provide the army and National Guard with money, medication, and weapons. They fight as part of the armed forces.
He points out that, in a surprising reversal, many Ukrainian Jews who have immigrated to Israel over the years have returned to Ukraine.
In his visit, sponsored by the Ukrainian Jewish Encounter, Zissels spoke to both Ukrainian- and Russian-speaking communities in Toronto and Ottawa.
His purpose was to propose an initiative called "the Coalition for Democratic Choice." This project will solicit international help to stand up to Russian armed aggression against Ukraine and other targets.
Before Ukraine, Georgia and Moldova were two other neighbors of Russia that suffered land grabs from Moscow. But Ukraine continues to resist Russia's aggressive policy to re-occupy territory into a new Moscow-led Eurasian Union.
As a result, Zissel says, the Russian war against Ukraine is being waged on three fronts. In global propaganda, in the economy, and in the military sphere.
Russian propaganda against Ukraine is in many languages, and uses old and new technologies. Ukraine needs allies to fight back.
Zissels is looking for allies not only among other governments and countries, but also among ethno-cultural, religious, and human rights organizations.
Many countries in transition to democracy have problems similar to those experienced by Ukraine today. They face underhanded propaganda, economic pressure, political intrigue, and military aggression.
Coalition efforts would counter Russian propaganda and protect the informational security interests of countries that chose the democratic path of development.
Zissels notes not only the urgency but also the promise of the situation.
He says we are watching a Ukrainian political nation come into being. A European people is being born. A people consisting of representatives of different ethnicities and nationalities who have a joint vision of Ukraine's democratic future.
The conflict that we are dealing with, he says, is very complicated, with many different dimensions.
But it is not an ethnic conflict between Russians and Ukrainians.
It is not a language conflict between Russian-speaking and Ukrainian-speaking citizens.
It is, in fact, says Zissels, a conflict of civilizations. To be precise, a conflict between the Eurasian and European civilizations.
He reminds us that we are dealing with a systematic conflict. And so we require a systematic approach. An approach to save Ukraine while the rest of the world, as he says, awakens from its sweet slumber. He warns us we must finally understand that his brothers and sisters are dying not only for the sake of Crimea and Donbas, but for the future of European democracy and civilization itself.
This has been Ukrainian Jewish Heritage on Nash Holos Ukrainian Roots Radio. From San Francisco, I'm Peter Bejger. Until next time, shalom!
The audio is available here.