Address by Prime Minister Arseniy Yatsenyuk on the 70th anniversary of commemorating Holocaust victims
Posted In: Holocaust Remembrance

January 27, 2015 is the date of the 70th anniversary of the liberation of prisoners from the death camp at Auschwitz, where for a short time there were exterminated about two million people, with the majority of Jews among them. On the decision of the United Nations Organization this day is marked as an international day of Holocaust remembrance – a day to remember about a black page in the history of mankind and in the history of the Jewish people, more than one-third of whom had been destroyed during the Second World War.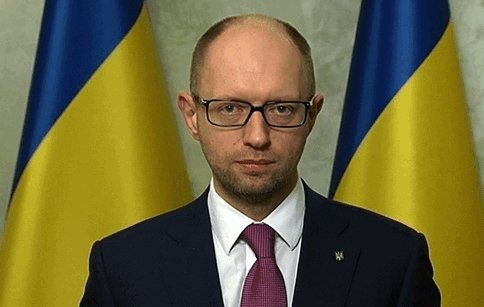 While commemorating this day to pay the tribute of the six million victims of the Holocaust among them, we remember with sorrow hundreds of thousands those who were killed, tortured and exterminated on the territory of Ukraine in those terrible years: Jews, Romanians, Ukrainians and other nationalities.
We honor those who survived in the inhuman conditions and brought to us that awful truth about where leads an ideology, built on ideas of hatred and fanaticism, the superiority of one nation over others.
With warm gratitude, we bow our heads to the memory of those who by risking their own life were saving the doomed to death, and those who by their feat freed thousands of inmates from the Nazi concentration camps.
We strongly condemn all crimes against the Jewish people, all cases of antisemitism, genocide, ethnic and religious intolerance.
These days, when Ukraine is suffering from military aggression, and the terrorists commit reprisals, and sometimes murders basing on national or religious grounds, we again and again declare the commitment of our people to build our future on the principles of tolerance and mutual respect, respect for the freedom and uniqueness of a person.
Peace to all of us, happiness and good.