Director stages anti-Ukrainian show in Kaliningrad
Posted In: Culture and Arts

A disturbing example of the exploitation of Jewish themes for anti-Ukrainian propaganda in Russia can be found in a recent provincial theatre production that has drawn national attention. The director Mikhail Sales has staged the well-known Russian writer Grigory Gorin's 1969 work A Prayer for the Dead at the Kaliningrad Oblast Theatre. The play is based on the stories of Tevye the Milkman by the great Yiddish writer Sholom Aleichem. Gorin and Aleichem are no doubt turning in their graves over a Jewish director's use of the Tevye tales for a false thriller against Ukraine.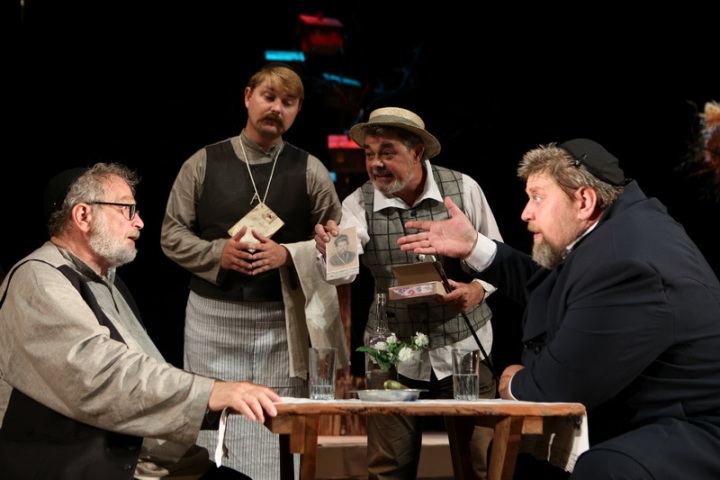 Photo of the play from Forum Daily: http://www.forumdaily.com/rezhisser-evrej-sozdal-strashilku-protiv-ukrainy-na-scene-rossii/
The director Sales decided to add what is now "fashionable" in today's Russia -- anti-Ukrainian moments that are not to be found in the original texts by Gorin or Aleichem. A review in the Moscow newspaper Komsomolskya Pravda described a scene where a character named Claudia entered the stage carrying a whip and wearing riding breeches, boots, an embroidered Ukrainian blouse, and a hair style made popular by former Ukrainian prime minister Yulia Tymoshenko – a wrapped braid. She was accompanied by hooligans in balaclavas and reminded the Jews who was master in Ukraine.
In Gorin's original text the gangsters proclaim, "We, the true patriots of Russia, speak to you, a devil tribe, 'Leave our land!'"
Victor Shapiro, the head of the Jewish community of Kaliningrad, commented, however, "This scene with Claudia is absolutely false. The talented director Mikhail Sales crudely distorted Gorin's text by bringing onto the stage frightening so-called 'Ukrainian nationalists' in black trench coats and black masks and a woman with a Yulia Tymoshenko braid. From the stage resound the cries of 'Kikes, we hate you!' and 'Beat the Kikes, and save Ukraine.'"
Sales, a Jew who was born in Western Ukraine, for most of his life worked as a director in various theatres in regional centers of Russia. He lived in Israel for several years and later returned to Kaliningrad. The anti-Ukrainian scenes in his new production are perhaps not only a "fashion statement", but also a manifestation of loyalty to aggressive ideologies that dominate contemporary Russia.
By Shimon Briman