In Memory of Dr. Victor C. Goldbloom
Posted In: Other UJE-Related News

At a recent meeting of the Ukrainian Jewish Dialogue of Montreal (UJDM), members recalled a moment when Dr. Victor Goldbloom glanced around the table at which we were all comfortably dining and quietly asked, "What are we going to do about Metropolitan Sheptytsky?" Victor's question triggered an animated discussion and a clear determination to act. Within a few months, UJDM organized a scholarly conference on the extraordinary legacy of Metropolitan Sheptytsky, an event which brought together an overflowing crowd of enthusiastic participants from the Ukrainian and Jewish communities.

When Dr. Goldbloom passed away suddenly and unexpectedly on February 15 of this year, we, the members of UJDM, immediately reached out to each other to mourn the loss of our beloved co-chair and to seek comfort in the warmth of our special friendship. Together we expressed our deepest condolences to Victor's dear family. Together we reflected on Victor's extraordinary legacy, and together we affirmed our collective wish to preserve and honour his unique contributions to building interfaith and interethnic relations.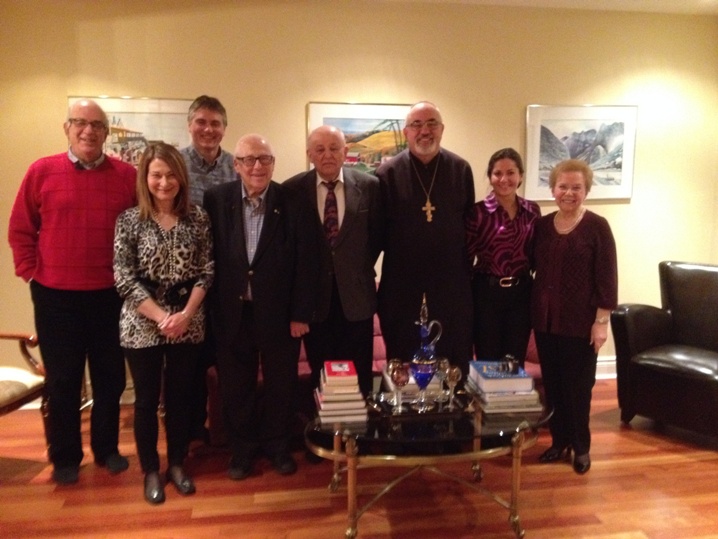 UJDM was co-founded by Dr. Victor Goldbloom and Professor Roman Serbyn some 12 years ago. In the spirit of kindness and generosity which quickly came to characterize our group, Victor always maintained that UJDM had originated with Roman while Roman invariably credited Victor with the group's inception. The two men first met under difficult circumstances but were able to examine negative perceptions, stereotypes, and differences by engaging in open, civil discourse. Years later, their mutual respect, intellectual honesty, and forward thinking converged to form the cornerstone of UJDM's approach to dialogue. As Victor noted in his remarks at the Montreal opening of Ukrainian Jewish Encounter's exhibition on the history of Christian-Jewish relations in Ukraine:
Our common purpose has been to be forthright and objective about the positives and negatives in the past and in the present … Whatever in the past needs to be analyzed and faced and regretted, our ability to live together as Canadians and Quebecers today is a tribute to our society and to the dialogue we have built.
Victor and Roman enjoyed a close, constructive friendship which greatly motivated the other members of our dialogue group. Their relationship also guided our approach to public and educational activities. The first program offered by UJDM and conceived by Roman was a scholarly lecture and photo exhibit on the ways in which the American Jewish Joint Distribution Committee helped to save Christian Ukrainians during the famine in Ukraine in 1921-22. In a similar vein, Victor was the driving force behind our recent program on Archbishop Andrei Sheptytsky, the head of the Ukrainian Catholic Church who saved 150 Jewish Ukrainians during the Second World War.
Although Dr. Goldbloom was a prominent public figure whose trailblazing achievements as a Quebec cabinet member, Chief Executive Officer of the Canadian Council of Christians and Jews, and Commissioner of Official Languages have been widely recognized, the full extent to which he was actively involved in promoting dialogue between smaller communities may be less well-known. Yet the many outreach initiatives he spearheaded in order to build relationships among members of diverse religious and ethnic groups complemented his more visible successes. UJDM has been a model of the type of constructive engagement Victor promoted and practiced in order to further harmony, cooperation, and understanding in Quebec and Canada.
From healing one child and family at a time as a pediatrician, Dr. Goldbloom proceeded to connect with many individuals and their communities in order to help to heal and transform society at-large. In an address to the Sixth Assembly of the World Council of Churches in 1983, he defined "dialogue as an instrument which may be used towards the attainment of peace and justice."
Victor possessed a tremendous intellect, and he taught us many lessons: the power of patience and perseverance; the wisdom of kindness and grace; the value of courtesy and resilience. His singular blend of quiet diplomacy, inspirational leadership, and good humour have enriched our lives immeasurably, and we are grateful to have known him.
In the Talmud, the compilation of Jewish law, ethics, and reflection, there is a passage suggesting that just as there are stars whose light reaches the earth long after they have come apart, so too are there people whose remembrance brings light into our world long after they have passed away. May Victor's light continue to embrace our communities and illuminate the wider societies to which we belong. And may his memory be a blessing to us all.
Dorothy Zalcman Howard
Alexandra Hawryluk
---
Ukrainian Jewish Dialogue of Montreal / Dialogue judéo-ukrainien de Montréal was co-founded by Dr. Victor C. Goldbloom and Professor Roman Serbyn. Its members include Robert Elman, Alexandra Hawryluk, Father Ihor Kutash, Mariya Makivchuk, Dr. Yury Monczak, Professor Roman Serbyn, and Professor Dorothy Zalcman Howard (retired).