Jewish reflections on a year of war
Posted In: Russia–Ukraine War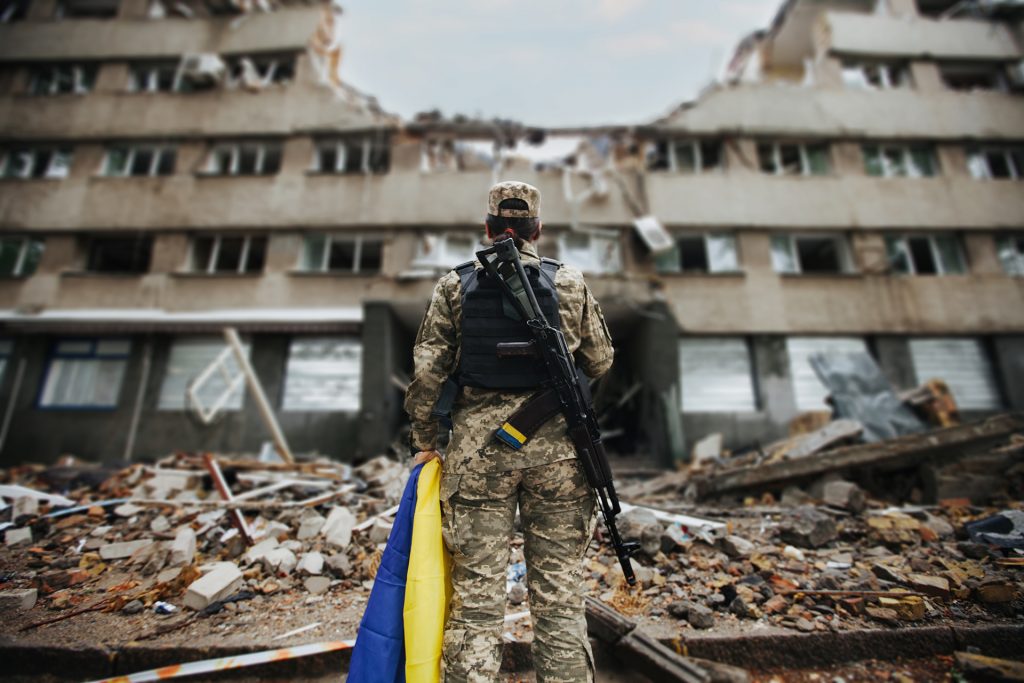 On 24 February 2022 at 5:07 a.m., Ukraine time, Russia launched a series of missile attacks on the Ukrainian capital Kyiv, and the northeastern city of Kharkiv, thus starting a genocidal war against Ukraine. In the year since the full-scale invasion, the world has witnessed the brutality Russia has unleashed against Ukraine. The killing grounds of Bucha, Irpin, and Mariupol are etched into the world's consciousness. Jewish communities in North America, Canada, and Israel have condemned Russia's brutality; many have raised millions to support Ukraine and its people. Ordinary citizens have opened their doors to Ukrainian refugees, while prominent Jewish celebrities have worked tirelessly on behalf of Ukraine. Jewish intellectuals have forcefully argued Ukraine's case. Israeli politicians have urged their government to provide military assistance to Kyiv, along with the humanitarian aid Israel is providing. On the anniversary of Russia's invasion, we offer only a tiny sampling of Jewish voices supporting Ukraine. We begin with UJE's newest project, The Ukrainian Jewish Encounter Timeline: From Antiquity to 1914, which serves to counter the malicious and false narratives about Ukraine and its history.
The Ukrainian Jewish Encounter Timeline: From Antiquity to 1914
Ukrainians and Jews have lived as neighbours for centuries, creating and sharing enduring cultures that continue to inform their identities today. Ukrainian Jewish Encounter (UJE) is proud to present an integrated narrative of these two peoples in the belief that there is much to be gained by viewing their historical experience together, in all its complexity.
Explore the UJE Timeline here.
'I realize now how fragile human life is': Four Ukrainian Jews reflect on a year at war
Nearly a year since Russia invaded Ukraine, life in Kyiv goes on. I hear people talking about drones and rockets — counting the ones Ukraine's military managed to destroy, the ones that landed, and the damage they caused.
Read More @Forward
I worried antisemitism would engulf Ukraine after Russia invaded. I was wrong
Antisemitism in the former Soviet Union was many things, but never subtle. As my mother succinctly described it: "When they realized you were a Jew, their nose and lip would turn as if they just smelled s***." 
Read More @Forward
Opening Our Home to Ukrainian Refugees
I have a black-and-white photograph of a man in his 20s: dark wavy hair, mustached, staring grimly at the camera. On the back, the name of the studio in Odessa where it was taken. It is my great-grandfather Morris Verechovsky. He came to America shortly after the photo was taken, changed his name to Morris White, and married my great-grandmother Sarah, whom I knew when I was a young child. 
Read More @Tablet Magazine
The Kyiv Jewish Forum
The Kyiv Jewish Forum is an annual event bringing together top global leaders to discuss and share their insights on the most pressing issues facing Jewish communities worldwide. Tablet Magazine and the Jewish Confederation of Ukraine came together to help strengthen understanding of the Jewish community's role in the development of Ukraine and to motivate international support for Ukraine's independence. The Forum unfolded over two days, 15 and 16 February. You can find full coverage of each day's offerings here and here. Below are eight of the Forum's high points. For individual videos of all of the conference sessions, click here.
Read More @Tablet Magazine
Freedom & Tyranny/Bernard-Henri Lévy & Natan Sharansky
Bernard Henri-Levy: Who's Afraid of Vladimir Putin?
Fear.
A shameful fear, devouring and starting to spread.
That depressing and sickening fear, that fear that wishes not for peace but rather to be left in peace, that fear that begs for peace and pleads for peace.
Read More @Tablet Magazine
Anne Applebaum II: Conversations with Bill Kristol
What have we learned about the character of Ukraine, Putin's war aims, and American and European policies on Russia/Ukraine? What are the fault lines over Ukraine in Europe? What is the situation in Germany? What is the situation in Poland?
Read More @Conversations with Bill Krisol
See also "They Didn't Understand Anything, But Just Spoiled People's Lives' @The Atlantic
A year into the Russian invasion of Ukraine, 'What Matters Now' to Ksenia Svetlova
A year into the Russian invasion of Ukraine, is Israel maintaining its policy of neutrality? Is the Russian presence in Syria still a good enough reason for the Jewish state to decline underdog Ukraine's repeated requests of anti-missile defense systems? To find out answers to these questions, I turned to Middle East and Russo-Ukraine expert, Ksenia Svetlova.
Read More @The Times of Israel
Israeli FM met with Ukraine's Zelensky, both agree to work together against Iran
Israel and Ukraine agreed to work jointly, in the international sphere and on all levels, against their common enemy Iran, Foreign Minister Eli Cohen said after he met Ukrainian President Volodymyr Zelensky.
Read More @Jerusalem Post
Edelstein, Elkin meet Zelensky, say Israel must give Ukraine defensive arms
Two top Israeli lawmakers met with Ukrainian President Volodymyr Zelensky and called for their country to give Kyiv an anti-drone and anti-missile system, a position that is contrary to the existing government's policy.
Read More @Jerusalem Post
Liev Schreiber's family ties to Ukraine push him to help its people
Long before Ray Donovan, Victor Creed or Richard Roma, the main character in Liev Schreiber's life was Alex Milgram. "He became like a superhero to me," Schreiber tells NPR's All Things Considered.
Read More @NPR
Mila Kunis Raised $37 Million for War Refugee Relief: 'I'm So Proud to Be from Ukraine'
When Russian forces invaded her native Ukraine, the People of the Year honoree sprang into action: 'We didn't have a solution — so we created one'
Read More @People 
2023 Genesis Prize Awarded to Ukraine Activists
Natan Sharansky, a trustee of the Genesis Prize Foundation, and Stan Polovets, founder and chairman of the foundation, announced Wednesday that this year's Genesis Prize would be awarded to Jewish activists and nongovernmental organizations "working to support the Ukrainian people in their quest for freedom, independence, and dignity."
Read More @themedialine
NCSEJ and the global community mark the one-year anniversary of Russia's full-scale invasion of Ukraine.
See the statement here.