The defender of the honor of the Ukrainian people has passed away
Posted In: Other UJE-Related News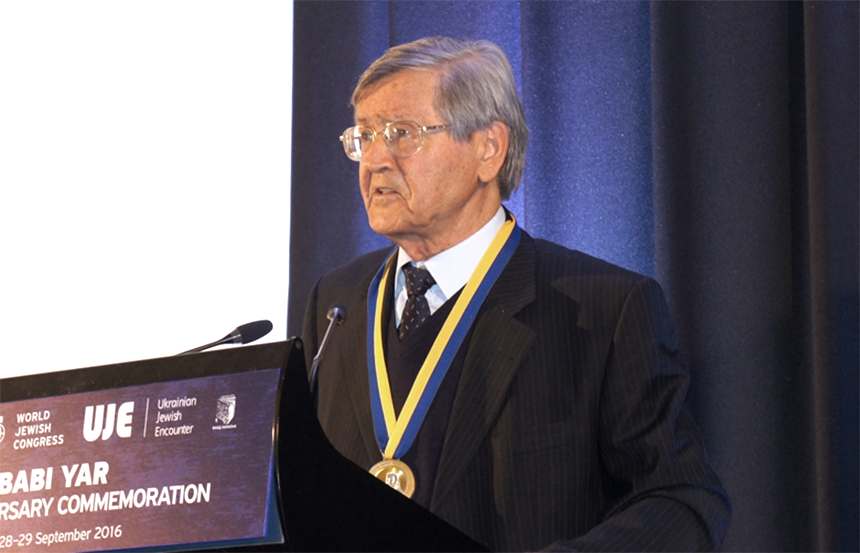 Ivan Dziuba, a brave Ukrainian intellectual, a brilliant analyst, a patriot and a true moral authority, has passed away.
The heart of the native of the village of Mykhailivka, Volnovakha district, Donetsk region, stopped on the evening of 21 February 2022 — ­­at the moment when Russia's president announced his plans to occupy Donbas on television. Ivan Dziuba's native village has been at the forefront of this war against Ukraine for almost eight years, one kilometer from the front line.
Dziuba was born in 1931 in the Donetsk region of Ukraine. He came to prominence during a postwar generation of writers who revitalized Ukrainian literature. He was active in the dissident movement of the 1960s against the persecution of the Ukrainian intelligentsia. Dziuba's activities and Internationalism or Russification?, a widely-translated critique of Soviet policies published in the West in 1968, led to his arrest, imprisonment, and enforced professional isolation.
Dziuba re-emerged as an important public figure after Ukrainian independence and served as Ukraine's Minister of Culture from 1992 to 1994. He was a member of the National Academy of Sciences of Ukraine, where he had been a prolific contributor to Ukrainian literary criticism.
Ivan Dziuba entered the history of Ukrainian-Jewish understanding when he took part in a spontaneous rally on the 25th anniversary of Babyn Yar in September 1966.
In his address, Dziuba said: "I turn to you as to my brothers in humanity. I want to address you, Jews, as a Ukrainian, as a member of the Ukrainian nation. Babyn Yar, this is a tragedy of all humanity, but it happened on Ukrainian soil. And that is why a Ukrainian does not have the right to forget about it. Babyn Yar, this is our common tragedy, a tragedy first of all of the Jewish and Ukrainian people. "
Dziuba declared a sort of formula for Ukrainian-Jewish relations: "We, Ukrainians, must fight in our environment against any manifestations of antisemitism or disrespect for the Jew, misunderstanding of the Jewish problem. You, Jews, must fight in your environment against those who do not respect the Ukrainian people, the Ukrainian culture, the Ukrainian language, who unjustly see in every Ukrainian, a hidden antisemite."
The writer and many from the small group of men and women present at the rally honoring the Holocaust were persecuted by Soviet authorities. For his democratic views and protection of human rights, Dziuba was arrested and sentenced to five years in prison and five years in exile.
Fifty years after the rally, during the commemoration of the 75th anniversary of Babyn Yar in 2016, Dziuba was presented with the Metropolitan Andrei Sheptytsky Award. He was recognized for his decades-long commitment to human rights and fostering dialogue between nations. He was an authoritative voice during the repressive Soviet period, speaking out against xenophobia and antisemitism and working for national reconciliation.
The award is conferred by the Jewish Confederation of Ukraine and the Ukrainian Jewish Encounter.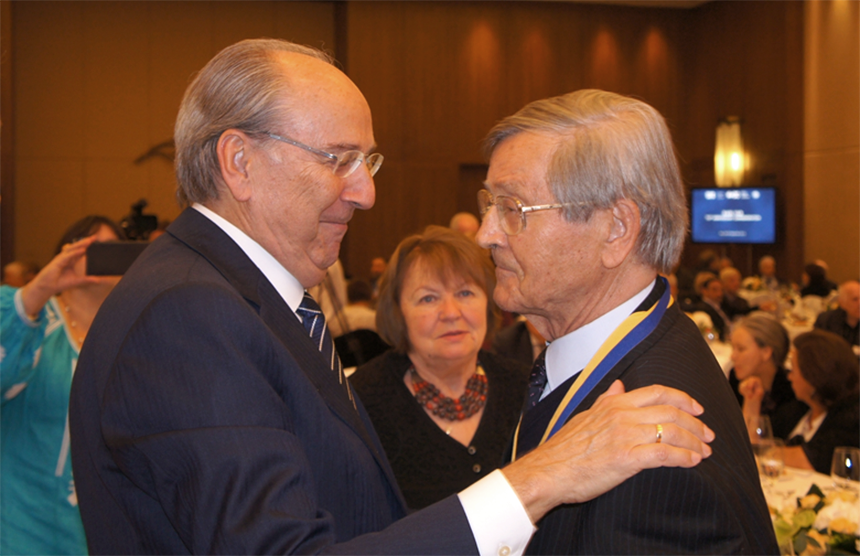 James Temerty, UJE's board chairman, said of Dziuba at the award ceremony, which took place on 28 September 2016 in Kyiv, Ukraine: "He spoke against silence, even though he acknowledged that words were powerless against the enormity of the tragedy of Babyn Yar. He said, 'Silence becomes the accomplice of lies and non-freedom.' He denounced the persistence of antisemitism that was all too prevalent in the USSR and among his fellow Ukrainians. He bore witness to the thousands who had perished in that place and in doing so defended the honor of the Ukrainian people."
Ivan Dziuba has passed away. But his contribution to Ukrainian-Jewish understanding is unforgettable. Eternal memory to this glorious son of Ukraine!
Text and photo: Shimon Briman (Israel).