Speech of Josef Zissels at parliamentary hearings titled "Role, Meaning, and Influence of Civil Society on the Creation of the Ethno-National Policy of Unity in Ukraine"
Posted In: Commentary, Commentary and Analysis

Madam chair! Representatives of the government and the diplomatic corps! Members of the Parliament! Distinguished participants! Thank you for the invitation to speak within these halls, which have over the last year had the attention of not only the citizens of Ukraine but of many people from different countries all over the world.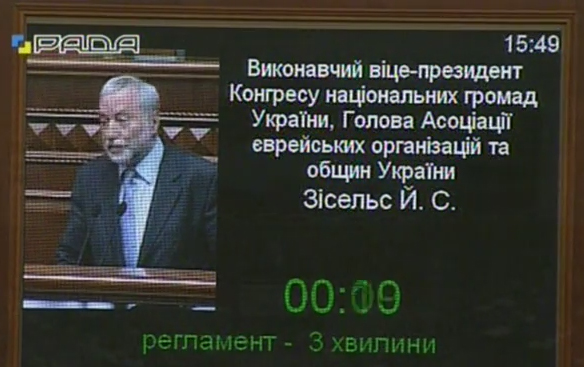 In 1990, Victor Kulinich and I created the Council of Ethnicities in the People's Movement of Ukraine. In the 25 years that have passed since then, we have amassed a large body of experience in cooperation with Ukraine's ethnic communities over the course of dozens of inter-ethnic and inter-faith projects.
If I were speaking here two years ago, I would have said much about the problems of Ukraine's ethnic communities: about the flawed legal system, about xenophobia and antisemitism, about problems in education, culture, in restitution of communal property and protection of cultural heritage of Ukraine's ethnicities, about financial problems and problems in vocational training.
Over 23 years full of trouble and problems one could have come to the conclusion that the Ukrainian government is prejudiced towards ethnic minorities. But we have seen that the government acts the same in other matters important for society: in matters economical, social, and political its decisions were just as superficial, populist, and incompetent.
However, today I will not be speaking about all of these problems and complaints, because for the last year we have all been living in a different world. Our world has been one of Russian armed aggression against Ukraine – that is, to call a spade a spade, one of war. This is why I would like to call out to the leaders of Ukraine's ethnic communities with the same proposal that I made to all of you from the Madian stage on December 15, 2013. Let's put aside our problems and demands that we are making of the government till better times and ask ourselves: "What else can we do for Ukraine today? How can we protect it from military aggression?"
If all of us together do not defend Ukraine, there will be no sense in either talking about these problems or attempting to solve them, for there will be no Ukraine. The Ukraine that we are all attempting to build together – a dignified, democratic, economically developed European country – will not exist.
Between peace and war there had been the Maidan, which will always remain in our hearts, both as joy and as pain. I learned the following from the Maidan:
● We are watching the Ukrainian political nation come into being. A European people is being born, a people consisting of representatives of different ethnicities and nationalities that have a joint vision of Ukraine's future with politically-conscious Ukrainians;
● The conflict that we are dealing with, that we are participating in, is very complicated, with many different dimensions, but it is obvious to me that:
it is not an inter-ethnic conflict between Russians and Ukrainians;
it is not an inter-religious conflict between the Christians of the Kyiv and Moscow patriarchies of the Orthodox Church;
it is not an inter-lingual conflict between Russian-speaking and Ukrainian-speaking citizens;
It is, in fact, a conflict of civilizations, a conflict between the Eurasian and European civilizations to be precise, and Ukraine was the first among post-Soviet countries that was able to give a fitting rebuke to Eurasian imperial revanchism. We are dealing with a systematic conflict, and thus we require a systematic approach to save Ukraine while the rest of the world awakens from its sweet slumber to finally understand: our brothers and sisters are dying not only for the sake of the Crimea and Donbass, but for the future of European civilization itself.
So how can we, Ukraine's ethnic communities, help Ukraine?
I am not talking about regular Ukrainian citizens of different nationalities. They did not wait and do not wait now for any kind of instructions or recommendations from the leaders of their organizations. They went out onto maidans of their own initiative, defended them when governmental terror began, and died for their vision of Ukraine's future. They are not waiting for instructions now either – instead they help refugees all over Ukraine and help the Ukrainian army in any way they can: with food, warm clothing, medicine, and weapons. They are fighting and dying on the front lines.
I am talking about us – about the leaders of ethnic communities. How can we and our communities help Ukraine? And I can propose at least one direction that we can work in. Our ethnic minorities have their historical homelands and our global and international diasporas. These represent a wealth of potential aid that we can – and must – tap.
The idea to create a wide international citizens' network of the coalition "For Democratic Choice" appeared a year ago, immediately after the Maidan. To better understand what I am talking about, I would like to propose a certain model, a way of seeing the world as divided into authoritarian and democratic parts. Over the last hundred years we have been seeing attempts of different peoples to escape the prison of authoritarianism and imperialism and join the democratic world. There is a great number of countries "in transition" between these two worlds, from Finland in the north to Israel in the south, which have met with problems similar to ours on their road to democracy: underhanded propaganda, economic pressure, political intrigue and military aggression.
I am certain that the democratic world is interested in both broadening its boundaries and strengthening itself; however, it does not want to sacrifice anything for those gains. Coalitions "For Democratic Choice" are needed to awaken the democratic world. They can be created – and are being created as we speak in Canada and the USA – through civil initiatives in different countries.
In August 2014, the Annual General Meeting of the World Congress of Ukrainians adopted a resolution to support the creation of such coalitions. The World Congresses of Crimean Tatars, Jews, Estonians and others already know of this initiative and are considering joining it.
The heads of embassies of Estonia, Lithuania, Poland, Germany, the Czech Republic, Romania, Moldova, Georgia, Turkey, and Israel in Ukraine have also read the corresponding memorandum about the creation of such coalitions and have informed their respective governments about the initiative.
These coalitions need to be fully independent, without centralized government and financing. They need to make their own decisions on how to work, where they will get the money, and which directions they would like to explore – in short, they need to be independent, like the Maidan.
We see the following general directions in which these coalitions can take action:
● creating an informational balance with pro-Russian propaganda in their respective countries through a use of national languages and local existing dialects, while taking into consideration the particularities of how information is perceived in every particular country;
● civilized lobbying in their governments of economical, political, and military aid to the nations which have freely elected to take the economic path of development.
Yesterday it was Moldova and Georgia, today it is Ukraine, and tomorrow it might be Belarus, Azerbaijan, or Armenia.
Coalitions can include diasporal organizations, first and foremost of peoples who remember well the "distinctiveness" of life in a Communist empire, which have not yet forgotten the violence and lies of authoritarian and totalitarian regimes.
Moreover, international and national human rights organizations are also potential members of these coalitions.
The idea of creating such coalitions has already been presented on March 5 at a meeting of the Council for Inter-Ethnic Concord. So I am calling for you, the leaders of ethnic communities, to use our international ties and help create the coalition "For Democratic Choice", and
I am certain that this will help Ukraine and other countries protect their democratic choice.
Once we win, then we can return to discussing and solving our problems, as worthy citizens of a new Ukraine, a Ukraine that is democratic, ruled by law, and economically and socially developed.
And we can only win if we work together!
Text courtesy of Josef Zissels