UJE hosts author events at the Jerusalem International Book Fair
Posted In: UJE Initiatives, Book Fairs/Festivals, Outreach

JERUSALEM – Best-selling Ukrainian writer Irena Karpa and Dmytro Tyshchenko, the author of a new Yiddish-Ukrainian dictionary, will appear at this year's Jerusalem International Book Fair, raising the visibility of Ukraine in this important forum. Their participation at the bi-annual event has been made possible by the Ukrainian Jewish Encounter (UJE), a Canada-based charitable organization that works to promote closer relations between Ukrainians and Jews.

Karpa and Tyshchenko will both give talks at the fair on February 12. Each will also hold separate events in Tel Aviv before and after the festival.

Karpa, who has enjoyed six national best-sellers in Ukraine and whose works have been published in several Central and Eastern European countries, said the fair provides an opportunity to promote Ukraine, as well as a chance to learn more about the strong connections between Ukrainians and Jews, both historically and today.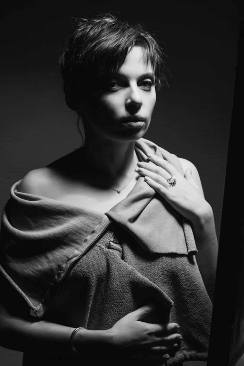 "The world knows little about Ukraine and at the national level almost nothing has been done for its image. So I as a writer and a citizen who loves her land no less than the wide world, it is important to promote this communication, person to person. The Israeli community is one of the most active in assisting Ukraine in this difficult time and I feel an incredible appreciation for it," she said.
"I have often thought about the many parallels in the fates of our two peoples. Persecution, repression, ethnic discrimination, intentional destruction on the one hand, and an unbreakable force of the spirit, plus the survival of cultural traditions—even though this Ukrainian treasure was achieved only recently. These parallels, if understood and appreciated, provide a basis for mutual empathy and solidarity. And of course, there is much to learn about how a government can function at a high level in the face of a society's external difficulties."
Tyshchenko, a well-known figure among Yiddishists, believes that the appearance of a Yiddish-Ukrainian dictionary marks a milestone in the study of a language that was the historical language of Ashkenazi Jews.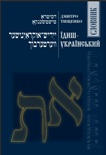 "The dictionary will become an indispensable assistant for researchers working with original texts in the Yiddish language (such as historians, political scientists, experts on literature and culture, and folklorists), as well as translators of Yiddish literature, students enrolled in Jewish Studies programs, and Ukrainian Jews interested in their roots who want to connect to the culture and traditions of their people," he said.
Although Yiddish grew to be a major European language and achieved internationally acclaimed literary productivity in the early decades of the 20th century, its demographic base was abruptly destroyed in the Shoah. Yiddish culture was then suppressed by the Stalinist regime in the Soviet Union. The choice of Hebrew as the state language of Israel sealed the fate of Yiddish as a literary language. Today, it is used by scattered religious communities or by a narrow group interested in it professionally.
The presentation of a Yiddish-Ukrainian dictionary in Jerusalem nonetheless "makes it possible to draw the attention of the wider cultural community to the fact that there is continued interest in the Yiddish language in the country where it had existed for centuries as the language of the majority of the Jewish population, and where it was tied to great literary achievements. The dictionary will also stimulate interest in exploring Yiddish culture and literature. Ukraine's participation in such endeavors is an indicator of increasing mutual respect and trust in Ukrainian society among representatives of different ethnic groups, a testimony to the young Ukrainian state that has not stopped, even during this time of hardship, to care about the dignity and self-realization of national minorities," said Tyshchenko.
The times and locations for the events sponsored by UJE in Israel are as follows:
On February 11, at 6:30 p.m., Dmytro Tyshchenko will appear at the Shalom Aleichem Museum in Tel Aviv, 4 Berkovich Street.
On February 12, at 1 p.m., Dmytro Tyshchenko will appear at the Jerusalem International Book Fair in the exhibition hall in Jerusalem, First Station.
On February 12, at 6 p.m., Irena Karpa will appear at the Khan Theatre, 2 David Remez Square, Jerusalem, near First Station.
On February 14, at 7:30 p.m., Irena Karpa will appear at the Israeli Writer's House, 6 Kaplan Street, Tel Aviv.
For more information, contact Natalia A Feduschak, UJE Director of Communications at nfeduschak@hotmail.com, 0546170163 (in Israel) or visit www.ukrainianjewishencounter.org