UJE Presented in Tel Aviv Dr. Dmytro Tyshchenko, Author of the New Yiddish-Ukrainian dictionary
Posted In: Culture, Language

On 11 February 2015 the Ukrainian Jewish Encounter hosted an event with Dr. Dmytro (Motl) Tyshchenko, editor of Ukraine's Mame-loshn journal (1993-98) and author of the newly published Yiddish-Ukrainian dictionary, at the Shalom Aleichem House in Tel Aviv.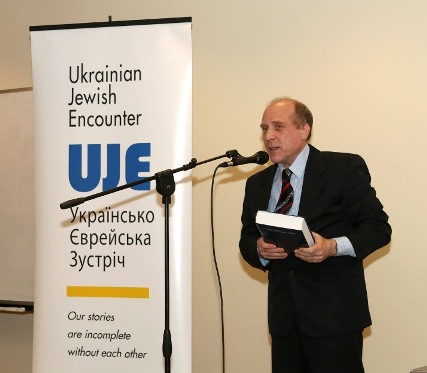 The Shalom Aleichem House is a cozy hub for Yiddish culture in the heart of Tel Aviv, hosting a range of classes and events on daily basis. One can see people of all ages, from all corners of the world. In addition to Yiddish, one can hear Hebrew, Spanish, Russian, Moldavian, and many more languages spoken here. The Ukrainian Jewish Encounter's event added diversity to this lively choir with the sounds of Ukrainian.
The UJE event was hosted in a venue with a strong sense of Ukrainian-Jewish context. The room features a permanent exhibition of Shlomo Shokhet's strikingly lively wood carved miniatures depicting the inhabitants of his hometown Ludmir (now Volodymyr-Volynskyi in Volhynia in northwestern Ukraine).
In the Shalom Aleichem House one can feel a good vibe, the spirit of creativity, and a sincere yearning to learn and share a common connection with Yiddish culture.
Despite the cold and stormy weather that struck Israel, dozens came out to participate in Yiddish classes and for the UJE event with Dr. Tyshchenko.
In an introduction to the presentation of his impressive lexicographical work—a 945-page tome with thirty thousand words—Dr. Tyshchenko shared his personal life story. Jewish and Ukrainian components are entwined, as he is the son of a Jewish mother and a Ukrainian father. He calls Yiddish his mame loshn (his mother tongue, as it is common to call this language in the milieu of Ashkenazi Jews) and Ukrainian—tate loshn, his father's tongue, a hearty notion invented by the scholar.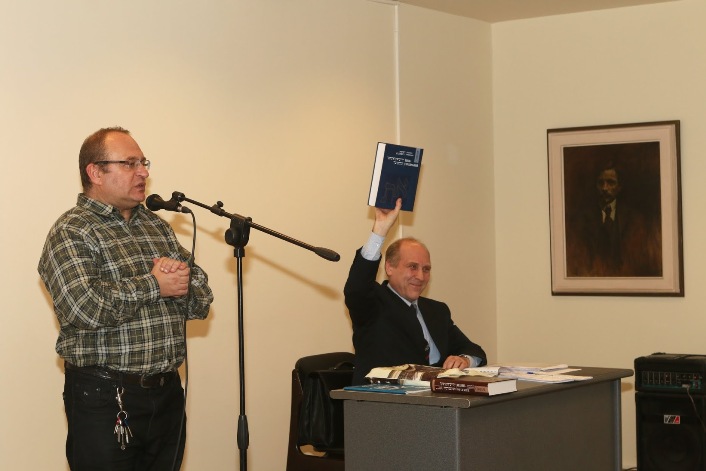 Dr. Tyshchenko's address was enthusiastic, positive, and inspiring. One of the most entertaining and touching parts of his speech was the reciting of his grandfather Abram Zaleshansky's poems in Yiddish with phrases in Ukrainian and Russian representing an effervescence of cross cultural influences. Dr. Tyshchenko also recited the renowned Ukrainian poet Dmytro Pavlychko's famous poem You Have Renounced Your Mother Tongue. His translation of this poem to Yiddish thus claimed the opposite by its appeal to respect and cherish one's native language(s).
Dr. Tyshchenko's presentation was followed by a spectacular musical performance in Yiddish by the Israeli actress Esther Nissim, who revived in her musical-theatrical pieces the bustling spirit of the shtetl and the vivid characters of the past. Nissim performed several world famous Yiddish hits that the public eagerly accompanied in song, in particular the acclaimed Oyfn Veg Shteyt a Boym featuring lyrics by Itzik Manger, a prominent Yiddish poet from Chernivtsi, Ukraine.
Miriam-Feyga Bunimovich