Ukraine, Antisemitism, racism, and the far right
Posted In: Commentary, Commentary and Analysis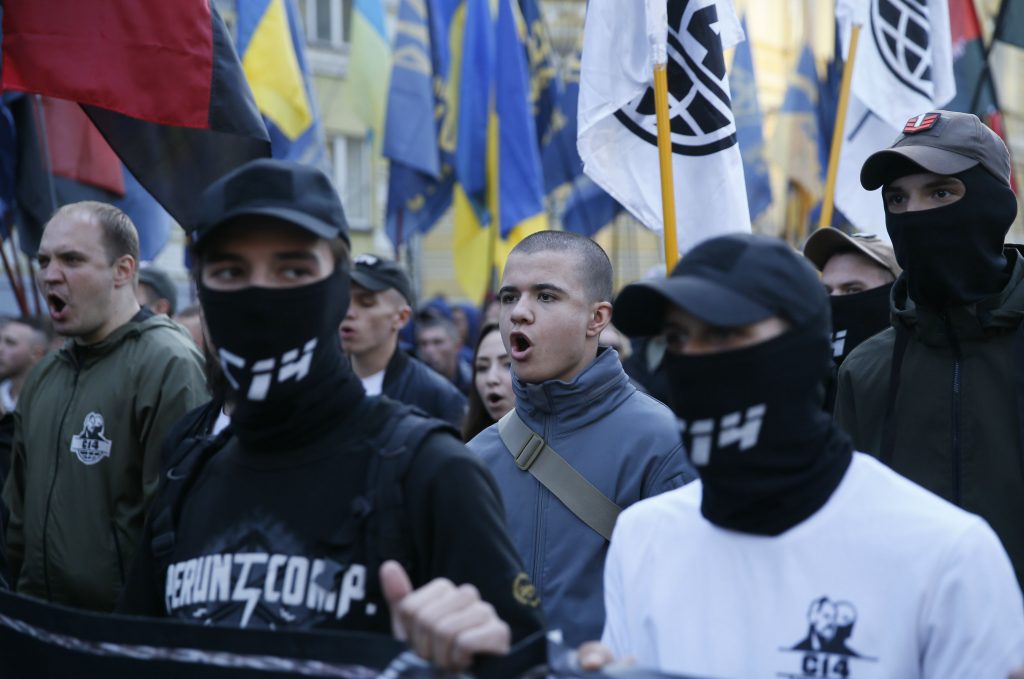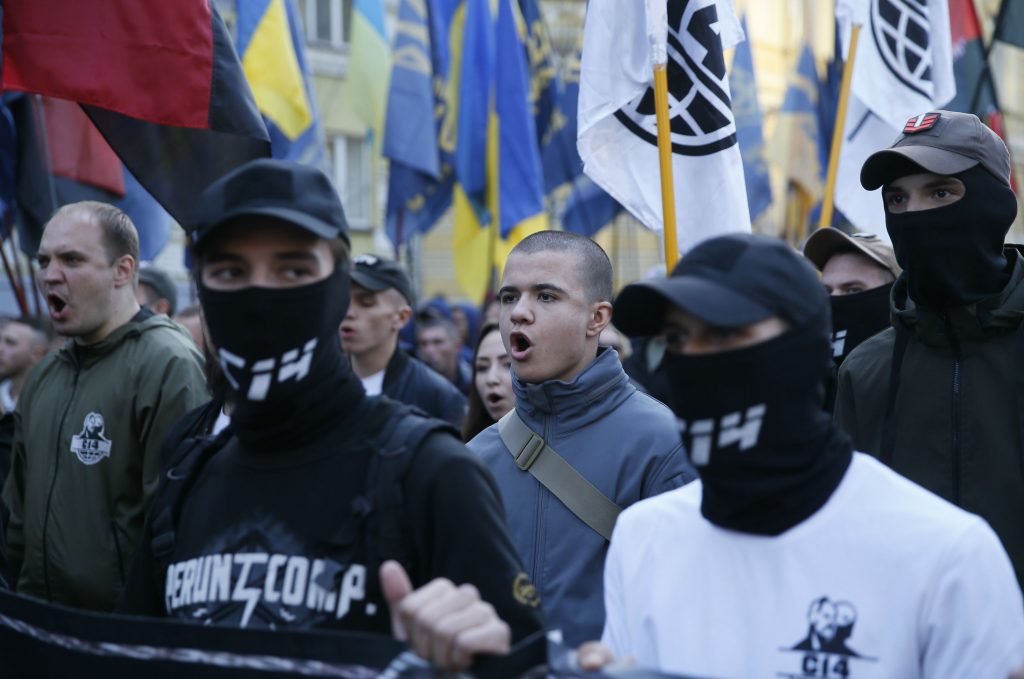 October 14 saw the latest in a string of annual mass marches by the far right in Ukraine. As many as 10,000 people participated, mainly young men, chanting fiercely. A nighttime torchlight parade with signs proclaiming, "We'll return Ukraine to Ukrainians," contained echoes of Nazi-style symbolism.
Lax law enforcement and indifference by the security services to the operations of the far right is being noticed by extremists from abroad who are flocking to Ukraine. German media reported the presence of the German extreme right (JN-NPD, Dritte Weg) at the rally. According to Ukrainian political analyst Anton Shekhovtsov, far-right Norwegians, Swedes, and Italians were supposed to be there too. And on October 15, they all gathered in Kyiv for the Paneuropa conference organized by the Ukrainian neo-Nazi National Corps party. "Kyiv," says Shekhovtsov, "has now become one of the major centers of European far-right activities."
Such activism, naturally, unnerves liberals as well as Jews, and national minorities. And they often result in alarmist headlines in Western and Israeli newspapers.
Coming in a year in which the white supremacist C14 group engaged in savage beatings at a Roma encampment near Kyiv, one could draw the conclusion that the far right is on the rise in Ukraine.
But such a reading would be mistaken. Far-right sentiments exist in Ukraine, but these ultranationalist groupings attract little public support. As the March 2019 presidential election approaches, recent polls show that the combined vote of far-right presidential candidates amounts to around 4 percent. A similarly paltry level of support is to be found for the far-right Svoboda and National Corps parties. Compared to the support of far-right parties such as the AfD in Germany (12.6 percent support), Marine Le Pen's Rally for the Nation (13 percent) and Italy's Northern League (17.4 percent), Ukraine's public has little sympathy for the far right.
Nor can these fringe Ukrainian parties be labeled pro-Nazi, though their leaders initially were drawn to proto-fascist ideas.Ukraine is a country on whose territory two million Jews died in the Holocaust. It is also a country in which five million non-Jewish Ukrainians perished in combat as a result of Nazi occupation. Virtually every family has the memory of Nazi brutality etched into its memory. Ukraine's nationalists of the 1930s and 1940s, who advanced antisemitic and proto-fascist ideas, were also eventually hunted down for extermination by the Nazi regime.
To be sure, casual antisemitism and Jewish stereotypes persist in everyday life. And antisemitic graffiti appears with regularity near Jewish synagogues, cemeteries, and cultural institutions. Even still, this regrettable phenomenon is widespread in most advanced industrial democracies.
At the same time, in the last two years there has been not a single recorded violent attack against a Jewish person. The last such attack occurred on October 7, 2016, against a Hasidic rabbi visiting the city of Zhytomyr.
Between 2016 and 2017, acts of vandalism against Jewish targets increased from 19 to 24, but were still far below those reported in many European countries. While an Israeli government report issued in January 2018 alleged a doubling of antisemitic incidents in Ukraine, it failed to provide detailed answers about its methodology or sources.
Unlike two decades ago, when Silski Visti, an antisemitic newspaper reached millions of readers, today there is no mass circulation periodical spilling out antisemitic bile.
Moreover, in comparison with its Central and East European neighbors, Ukraine remains a remarkably tolerant society, even as it faces Russian occupation in part of its territory. A 2016 Pew Research Center poll found that among South, Central, and East European countries, Ukraine had the highest level of acceptance of Jews as fellow citizens, with only 5 percent of the public disagreeing.
The leadership role of Jews in the country's economic and political life is rarely a topic of public discourse and is accepted as normal.
The country has a Jewish Prime Minister, Volodymyr Groisman.The president's chief of staff is Jewish, as was his last chief of staff, Borys Lozhkin, who now heads the Ukrainian Jewish Confederation and is a vice president of the World Jewish Congress.
According to the Ukrainian Jewish Confederation, more than thirty of 427 members of parliament are Jewish. And the Committee on Interparliamentary Relations with Israel is the largest of all such groupings in the Ukrainian Rada, numbering nearly 140 deputies, a third of the legislature.
Ukraine's religious leaders have regular access to key government leaders. And Ukrainian government and state leaders routinely take part in commemorative ceremonies of remembrance of the Holocaust.
All this is not to say that there are no serious problems.
Ukraine's memory politics reflect too much heroization of a complex past and not enough acknowledgment of such issues as indigenous antisemitism and collaboration with the Nazi occupation. More, too, needs to be done in restoring the killing fields in which Jews were murdered in the Holocaust.
More ominously, Ukraine's far-right, para-military formations and their penchant for vigilantism remain a problem that must be more vigorously countered by the state and their sources of funding investigated thoroughly.
Antisemitic vandalism needs to be rooted out and hate speech handled in accordance with Ukrainian law. Government reactions to acts or expressions of antisemitism remain far too slow. And incidents of violence against Roma by members of far-right groups such as C14 must be swiftly prosecuted. ​
However, Western and Israeli governments, media, and NGOs should be sensitive to Russia's hybrid warfare and disinformation around the topic of antisemitism and the far-right in Ukraine. Russia's deployment of actors who wittingly or unwittingly are encouraged to engage in hate speech, incite anti-minority tensions, commit vandalism, and employ violence is another phenomenon that must be better understood. In a poor country, it is easy to buy or win the allegiance of alienated youth and enlist them in fringe politics either by far-right operatives or Russian agents.
Ukraine's far right may not be a rising force. But in a poor country facing external aggression, it is a force that cannot be ignored.
By Adrian Karatnycky
Adrian Karatnycky is a senior fellow with the Atlantic Council, and co-director and board member of the Ukrainian Jewish Encounter.
Originally appeared in , Atlanticcouncil.org, October 15, 2018.