The Ukrainian Jewish Encounter at the Lviv Book Forum
Posted In: UJE Initiatives, Book Fairs/Festivals, Publications, Sponsored Projects, Outreach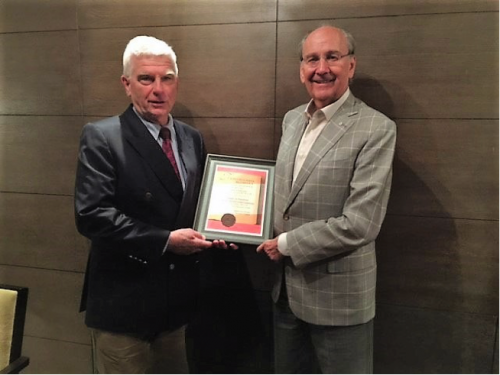 The Ukrainian-language edition of Jews and Ukrainians: A Millennium of Co-Existence by Paul Robert Magocsi and Yohanan Petrovsky-Shtern was awarded special recognition as one of the best books at the Lviv Book Forum 2016 by the Forum's president Oleksandra Koval.
Natalia Feduschak, director of communications of the Ukrainian Jewish Encounter, accepted the award on behalf of the authors and publisher. The lavishly illustrated book, which is aimed at a general readership, covers the intricate relationship of Jews and Ukrainians in twelve thematic chapters devoted to history, economics, culture, religion, and contemporary issues.
Magocsi is a professor of history and political science at the University of Toronto, where he holds the John Yaremko Chair of Ukrainian Studies.
Petrovsky-Shtern is the Crown Family Professor of Jewish Studies at Northwestern University.
In addition to the public introduction of Jews and Ukrainians, the Ukrainian Jewish Encounter offered a series of enthusiastically received presentations on Jewish literary figures and artists such as Sholem Aleichem, Schmuel Yosef Agnon, Ruben Feldschu, and others, and organized an intimate reception for guests during the Forum. Readers can look forward to additional forthcoming reportage of the UJE at the Lviv Book Forum.