Vitaly Chernoivanenko on Jewish Studies in Ukraine
Posted In: The Odessa Review, Sponsored Projects, Other Programs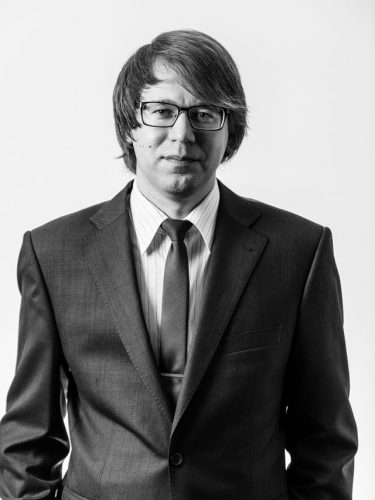 Vitaly Chernoivanenko is an associate professor at the Department of History at the National University of Kyiv-Mohyla Academy and co-director of the M.A. program in Jewish Studies at NaUKMA. He is also the president of the Ukrainian Association for Jewish Studies, and is chief editor of "Judaica Ukrainica". He is the author of the book "Qumran and the Dead Sea Scrolls: Identification, Authorship and Historiography". Chernoivanenko joined the editors of The Odessa Review in a Crimean Tatar restaurant in Kyiv to speak about the development and progress of Jewish Studies in Ukraine. 
This interview appeared in the October/November 2017 issue of The Odessa Review, which was supported by the Ukrainian Jewish Encounter.
Basically, Jewish Studies did not exist in Ukraine prior to the country declaring independence in 1991. When we speak about Jewish Studies, what we usually mean is "the academic study of Jewish civilization". It is a multidisciplinary field and Jewish Studies normally includes the study of Jewish languages (Hebrew, Yiddish, Ladino, etc.) as well as the study of literature, history, culture, philosophy and religion, politics and the study of society. Therefore, this field is based in humanities and social science. Alas, in Ukraine multidisciplinarity has not yet worked. There was nothing of the kind in Ukraine before 1991. In fact, Jewish Studies, as a great example of multidisciplinarity, became the first field of its kind in Ukraine.
When we were first developing the program at Kyiv-Mohyla Academy, we felt that not only was Jewish Studies necessary, but also that Kyiv-Mohyla Academy had to have them because it had a historical tradition of Hebrew Studies, which ought to be resumed. In 2015, we celebrated 400 years of the existence of Kyiv-Mohyla Academy. On the one hand, it is both a new and an old university, that is, a university that has an old history, but which emerged on completely new ground in the era of independent Ukraine. It also emerged with a new policy, a policy that distinguished it from all other universities that were Soviet in nature, and many remain Soviet until now. That is, Kyiv-Mohyla Academy initially began to focus on Western education and what we call liberal arts. This meant that there was a lot of academic freedom, students could and still can choose different courses, etc. And also Kyiv-Mohyla Academy implemented certificate programs. This made it possible for a student to receive a certificate in addition to his or her major specialty in some other field, for example, translation or religious studies. In particular, since 2003, a program in Jewish Studies has been established. In 2012, Kyiv-Mohyla Academy founded the first master in Jewish Studies program in Ukraine.
Now, Jewish Studies is not fully separate. There is no such totally independent specialization, and it is necessary to place Jewish Studies within the framework of some other specialization. That is, these students receive a History master's diploma, with a focus on Jewish history. There are two concepts here: field and concentration. It turns out that the field here is history, and the concentration is Jewish Studies.
In the early 1990's, Jewish Studies appeared in Kyiv for the first time in independent Ukraine in the form of the now defunct International Solomon University. They operated within the humanities for history and philosophy students. This university positioned itself as a Jewish university. This meant that all students — and there were Jews and non-Jews — necessarily studied the history of Jewish people. Everyone had to go through this course. This university was unique in its own way. Unfortunately, every year the situation was getting worse and worse. The management of the university was not very interested in Jewish Studies. They saw this university as a commercial project. But in the late 1990's and the early 2000's Jewish Studies flourished there, largely thanks to the work of the brilliant Leonid Matzikh, who has since died — sadly.
As I was saying, at Solomon, Jewish Studies was part of the humanities department. They had both history and philosophy classes in the program. And accordingly these classes prepared future historians and philosophers. But apart from that, the Department of Judaica was a distinct structure. It meant that those historians and philosophers could receive a minor in Jewish Studies. But because Solomon was a Jewish university, all of the students had some exposure to Jewish Studies. Everyone had to take a basic required course in the Judaica department.
Two years ago, Ukraine got a second (after Kyiv-Mohyla Academy) master's program in Jewish Studies at the Ukrainian Catholic University in Lviv. The program is directed by a well-known Ukrainian historian, Yaroslav Hrytsak. Ukrainian Jewish Studies programs of good quality exist mostly at universities that are more liberal, do not have the Soviet experience and that also strongly oppose corruption.
Today there are two programs in Jewish Studies and two cities (Kyiv and Lviv) in which one can get a degree in the field. But this does not mean that there are no centers for study in other cities. For example, last spring, in 2016, the Judaic center opened in Ostroh Academy (located in Rivne region). It is led by the philologist Dmytro Tsolin, who is the only specialist in the Aramaic language in Ukraine. For the second summer in a row, they held a school in Semitology. The center has occupied its own niche — they are the only ones in Ukraine who are engaged in Aramaic and Semitic Studies. Great specialists from different countries come to teach there. It turns out that Ostroh is becoming famous on account of this center!
Of course, the most active and progressive program is the one that operates at Kyiv-Mohyla Academy. This program is supported by a Canadian entrepreneur and philanthropist of Ukrainian origin, James Temerty. The master's program there is currently the largest one in Ukraine, with dozens of students and graduates. In Lviv, on the other hand, only a few people are recruited every year. At Kyiv-Mohyla Academy's program, there are eight permanent professors. The program typically hosts up to 10 visiting lecturers within an academic year. It also cooperates with the Hebrew University of Jerusalem, the University of Montreal, the University College of London, the United States Holocaust Memorial Museum, the Jewish Theological Seminary of America, and others. This program is unique in that it has an integrated archive, library and museum practicum, which takes place in between the first and second years of training, lasts up to three weeks and includes practical work in very different institutions with Judaica collections, mainly in Kyiv and Lviv. There is also an internship in Israel where the students and professors have the opportunity to communicate with Jewish Studies scholars and work on their research in Israeli libraries and archives.
In the spring of 2015, the Ukrainian Association for Jewish Studies was established in Kyiv. Now this is the Ukrainian Jewish Studies Association (UAJS), recognized by the European Association for Jewish Studies. Along with my colleagues, we decided Ukraine needed such an association in order to coordinate academic Jewish Studies, hold conferences, make publications, and initiate different projects. I have the honor of serving as the first acting president of the UAJS. Our association publishes the annual journal "Judaica Ukrainica", in cooperation with Kyiv-Mohyla Academy. The new volume for 2017, which will come out in early 2018, is dedicated to the centennial of the Revolution of 1917. Also, the international conference "Ukrainian Jews: Revolution and Post-Revolutionary Modernization. Policy, Culture and Society" organized by the UAJS and held at Kyiv-Mohyla Academy.
For me, the task of Jewish Studies is not merely to teach courses in Jewish Studies, but also to participate in the Ukrainian-Jewish dialogue and to discuss public projects. Do we have even one Jewish museum in Kyiv? We do not. The only museum that might qualify is the Shalom Aleichem Museum, but it is small and it is difficult to call it a true Jewish museum like the ones in Vienna, Berlin, Paris or New York. The graduates of the Jewish Studies programs have an important role to play in Ukrainian society and should take part in discussions  that  are taking place around issues such as the opening of Jewish museums. The reasoned opinions of those people who are engaged in the academic study of these issues should be taken into account. Today, we can more than witness progress in the Jewish-Ukrainian dialogue. This is a historic phenomenon and it is very important that historians take part in it. Jewish Studies needs to be further developed so that it becomes part of an integrated humanities culture and educational system in Ukraine.
NOTE: The UJE does not necessarily endorse opinions expressed in articles and other materials published on its website and social media pages. Such materials are posted to promote discussion related to Ukrainian-Jewish interactions and relations. The website and social media pages will be places of information that reflect varied viewpoints.