From the Pacific to the Black Sea: UJE expands the global Ukrainian-Jewish dialogue at Limmud FSU
Posted In: UJE Initiatives, Limmud FSU, Outreach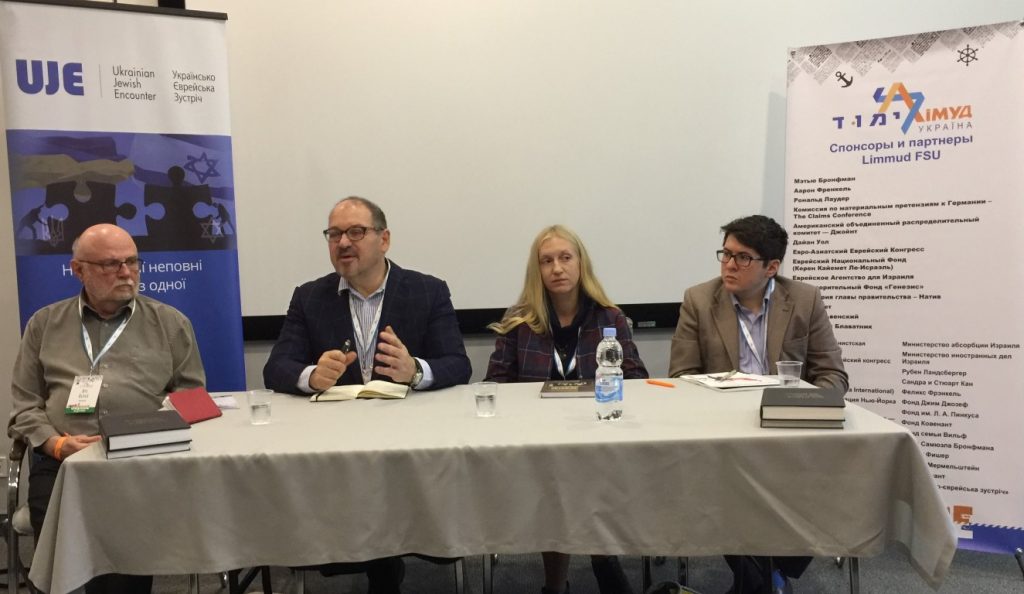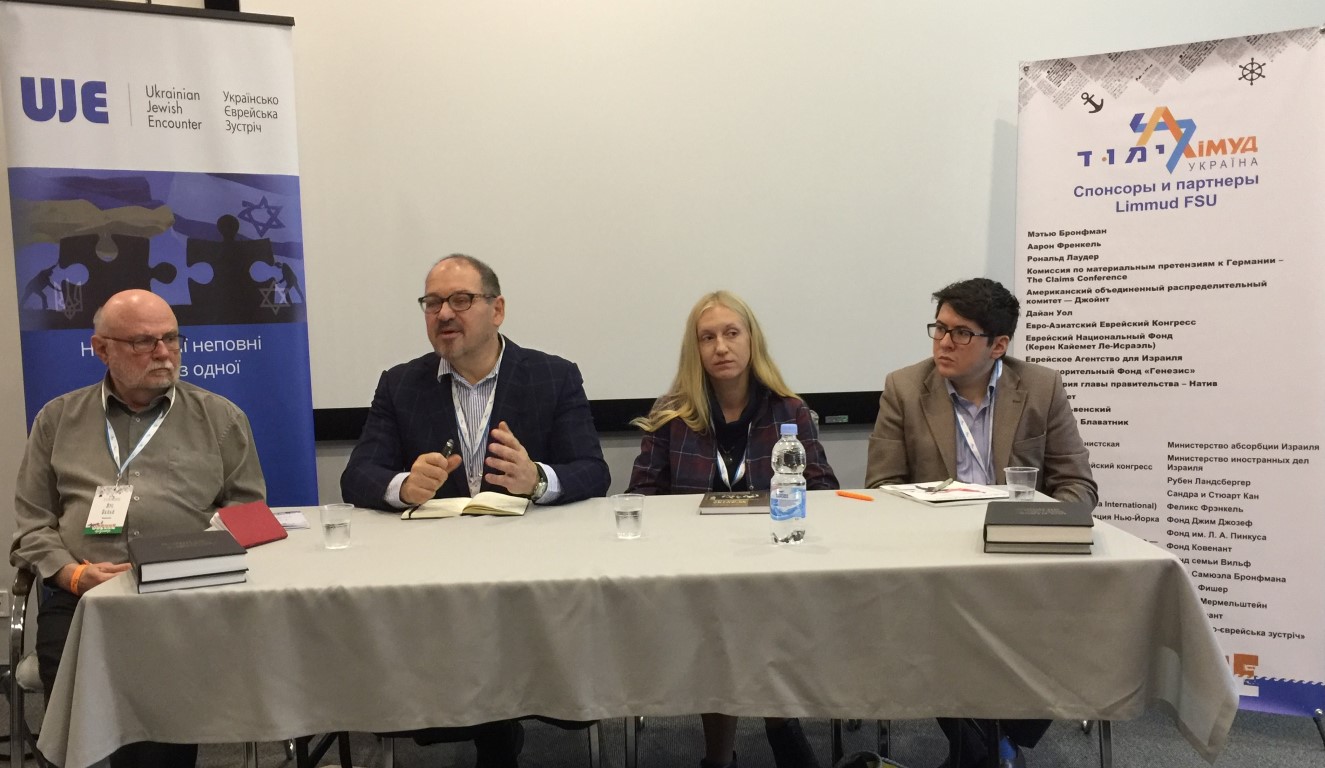 In 2006, Soviet Jewish activist Chaim Chessler visited Britain for a conference held by Limmud, an organization dedicated to Jewish learning. He immediately understood that this volunteer-driven group could be molded to meet the needs of Jews from the former USSR who had endured antisemitism and the suppression of their culture and language during the Soviet empire's reign.
Soon after that trip, Limmud FSU (former Soviet Union) was born. Since its inception, over thirty-five thousand individuals have participated in the organization's many conferences and festivals around the world, including those in Ukraine, Canada, Israel, and the United States. The Ukrainian Jewish Encounter in recent years has become a traditional Limmud FSU participant, presenting topics highlighting the many dimensions of the Ukrainian-Jewish experience.
At recent conferences that took place in Oakland, California (17-19 November 2017) and Odessa, Ukraine (19-22 October 2017), attendees at UJE panels were able to learn about the multifaceted interactions of Jews and Ukrainians on the territory of modern-day Ukraine.
At the Oakland conference, UJE board member Wolf Moskovich delighted the audience with a lecture about his hometown of Chernivtsi in western Ukraine, which the famed poet Paul Celan called "a town where books and people lived." Moskovich noted that Chernivtsi, once a sparkling gem of the Austro-Hungarian Empire, was built as an outpost of European culture, tolerance, and multi-cultural understanding. In many ways, the experiment was successful and history has proven its survivability. Chernivtsi gifted the world with a glittering array of significant cultural figures of German, Yiddish, Ukrainian, and Romanian background. Protected by courageous leaders and citizens, thousands of Jews were not deported and survived the Nazi occupation of the city.
In his talk Moskovich also drew references to a recently published book entitled The Ukrainian-Jewish Encounter: Cultural Dimensions, which he co-edited with UJE co-director Alti Rodal, who also presented a talk at the Oakland conference.
In her lecture "Hasidism on the Territory of Ukraine and the Influence of Ukrainian Folk Music on Hasidic Music," Alti Rodal offered an informed and engaging account of the origins and expansion of Hasidism on lands that today are part of Ukraine, and beyond. Given that the majority population in those areas where Hasidism developed and flourished was Ukrainian, she noted that it should not be surprising that elements of Ukrainian culture are to be found in Hasidic folklore and music. Rodal discussed Hasidic concepts and practices relating to music and played excerpts of soulful Hasidic songs and melodies to illustrate the various ways in which elements of Ukrainian folksongs were adopted or adapted in the Hasidic world.
Rodal later expanded her exploration of Hasidism on Ukrainian lands, this time focusing on its social aspects and teachings, at a lecture given at San Francisco's Jewish Community Library in conjunction with the UJE-developed exhibition "Hasidism on the Territory of Ukraine." This exhibition was featured for two months at the library, concluding on 10 December 2017.
In a moving and deeply personal talk, also at Limmud FSU, UJE board member Berel Rodal reflected on the life of Chiune Sugihara, who served as vice consul for the Japanese Empire in Lithuania. In the early days of the Second World War, Sugihara issued thousands of transit visas to desperate Jewish families in flight from German-occupied Poland and awaiting further Nazi advances. Sugihara's visas enabled those fortunate to receive them to escape Nazi-occupied Europe by heading East, to Japan and beyond. One of the recipients of these visas was Rodal's father.

Rodal described his father's journey from Europe, across the Soviet Union and Siberia, to Japan, China, and ultimately Canada. He drew parallels between Sugihara and Metropolitan Andrei Sheptytsky, head of the Ukrainian Greek Catholic Church, who during the war, from his base in Lviv in Western Ukraine, helped save more than 150 Jewish lives. Sheptytsky sheltered Jews in his own residence at great personal risk, and arranged for his church's monasteries to protect well over one hundred Jewish children, none of whom was betrayed or lost to the Jewish people.
Limmud also hosted Jars Balan, who spoke about the life of the Canadian journalist Rhea Clyman, little known today in the Jewish or Ukrainian communities, but who in her day achieved international acclaim for her reportage on the Soviet Union, including the 1932-33 man-made Ukrainian famine known as the Holodomor, and the rise of Nazi Germany. Balan, interim director of the Canadian Institute of Ukrainian Studies, has been presenting the fascinating story of Clyman's life and work throughout 2017 at Limmud FSU conferences in North America and Ukraine.
The conference held in Odessa was a notable occasion as it provided the venue for unveiling a special issue of The Odessa Review dedicated to Ukrainian-Jewish relations. The issue was made possible with the support of UJE.
UJE board member Adrian Karatnycky joined Vlad Davidzon, the chief editor of The Odessa Review, and Tetyana Batanova, instructor of Yiddish at the National University of Kyiv Mohyla Academy, in discussing Ukrainian-Jewish relations in the past, present, and future. Their wide-sweeping conversation touched on the need for both Ukrainians and Jews to understand each other's perspectives, and underscored the important role Ukraine's Jews play in helping others more fully understand the country.
Our readers will be able to access articles from this special edition of The Odessa Review that are currently being posted on the English-language page of UJE's website.
Roundtable: "Independent Ukraine: Addressing the Country's Jewish Past, Present, and Future", Odessa, Ukraine, October 21, 2017
(in Ukrainian and Russian)
00:00-0:45
Jars Balan, historian, poet, Interim Director of the Canadian Institute of Ukrainian Studies, University of Alberta.
0:45-13:52
Adrian Karatnycky, UJE Board Member.
13:53-21:28
Tetyana Batanova, instructor of Yiddish at the National University of Kyiv Mohyla Academy.
21:29-34:57
Vlad Davidzon, Chief Editor, The Odessa Review.
34:57-1:01:12
Discussion.
Berel Rodal, UJE Board Member: "Chiune Sugihara: A Model of Heroic Compassion", Limmud FSU 2017 Inspire, Oakland, California, November 19, 2017.
(in English)
Jars Balan: "Rhea Clyman: A Forgotten Canadian Witness to the Great Ukrainian Famine of 1932-33", Limmud FSU 2017 Inspire, Oakland, California, October 21, 2017
(in English)

Text, video, and photos: Natalia A. Feduschak