Ukrainian Poet from New York Vasyl Makhno Visits Israel
Posted In: Literature, Culture

Vasyl Makhno, an acclaimed Ukrainian poet whose work has been widely celebrated in Ukraine, Eastern Europe, and the United States, toured Israel 9-19 June 2014, visiting Tel Aviv, Haifa, Acre, Safed, and Jerusalem.

On 16 June 2014, Makhno participated in a discussion "The Ukrainian Revolution of 2014: Political and Cultural Dimensions" within the framework of Slavic Studies seminars that took place at the Hebrew University of Jerusalem. The event was organized to introduce participants to the poet and his work. Most of the seminar's fifteen attendees share an academic background in Slavic studies.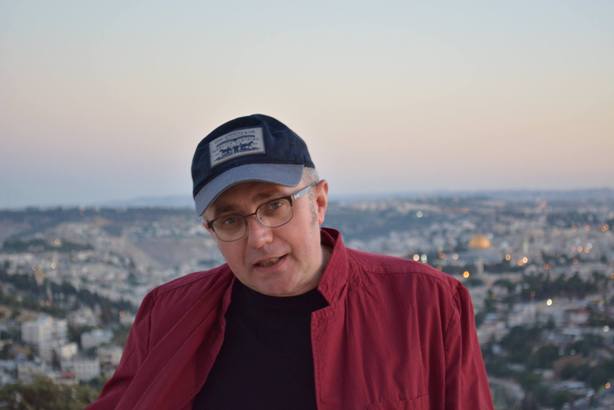 Vasyl Makhno in Jerusalem. Photo courtesy of Vasyl Makhno
Following an introduction by Professor Yohanan Petrovsky-Shtern of Northwestern University, who briefly outlined the poet's background in Modernist poetry, Makhno recited his poetry in both Ukrainian and English. The reading was accompanied by a media presentation of illustrations by the poet, with translations into English and Hebrew. A discussion related to both Makhno's poetry and current events in Ukraine followed the reading; the conversation was positive and optimistic, despite an evident anxiety about Ukraine's political and military situation. Topics included the political choices Ukraine now faces, the possibilities of federalization, and questions related to language.
Makhno said Ukraine's cultural choice was of critical importance to the nation's destiny. Some 23 years of independence have proven that Ukraine's young generation is unequivocally anti-imperialistic, anti-provincial, oriented toward Europe, and seeks to introduce their country to the world.
Makhno said he was profoundly impressed by his encounter with Israel, especially within the context of his interest in the Bible and Jewish, Israeli, and Ukrainian culture. The poet noted the trip inspired several recent poems he had penned. An interview with Makhno in Ukrainian can be found here.
Makhno's visit to Israel was sponsored by the Ukrainian Jewish Encounter.
Makhno holds a doctorate from the Academy of Sciences of Ukraine and works at the Shevchenko Scientific Society in New York City. He has authored ten books of poetry and two books of essays. His poetry has been translated into eleven languages including Polish, Romanian, Serbian, Russian, Yiddish, Hebrew, and English. The winner of several Ukrainian, European, and U.S. literary prizes, Makhno has also won Serbia's International Morava Poetry Prize (2013); the Ukrainian National Women's League of America Kovaliv Fund Prize (2009); the Stepan Budnyi Ukrainian Literary Prize (1994); and the Literary Prize of Festival LIR (1992). He also holds Ukraine's Order of Merit (2008).
Petrovsky-Shtern is the Crown Family Professor of Jewish Studies at Northwestern University. He has been appointed a Fulbright Specialist on Eastern Europe; a fellow at the Harvard Ukrainian Research Institute; a visiting professor at the Ukrainian Free University in Munich and an honorary doctor at the National University of Kyiv-Mohyla Academy in Kyiv. He has published several books, including The Anti-Imperial Choice: the Making of the Ukrainian Jew (Yale, 2009), which won the American Association of Ukrainian Studies book award. His new book The Golden-Age Shtetl: A New History of Jewish Life in East Europe (Princeton University Press) has been nominated for the 2015 Pulitzer Prize. He has commented on the current situation in Ukraine on Chicago Public Radio, Associated Press Radio, National Public Radio, Al Jazeera, WTTW (Chicago Tonight), and CBS. Petrovsky-Shtern is a member of UJE's academic council.
Videos from the event can be seen at: